Shanghai first Chinese city to top 3 trillion yuan GDP
Share - WeChat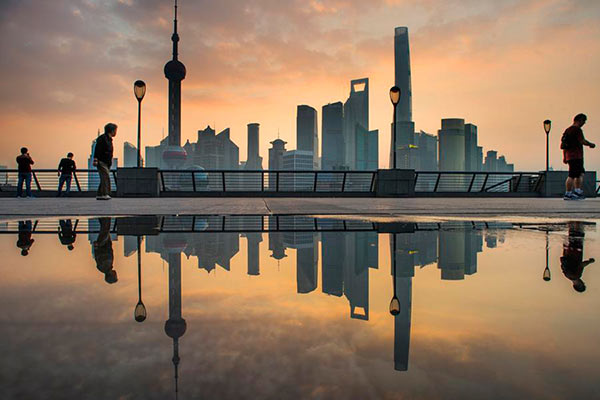 Shanghai became the first city in China, the world's second-­largest economy, to top GDP of 3 trillion yuan ($469 billion) and achieved higher-than-­expected growth last year, official data revealed on Friday.
The municipality achieved 3.01 trillion yuan in GDP in 2017, for year-­on-­year GDP growth of 6.9 percent, which corresponded with that of the previous year and last year's national average, according to the Shanghai Municipal Statistics Bureau.
"As an early bird of the nation's economic restructuring, such figures embody the standard and quality of Shanghai's steady economic growth, as well as its role in leading, radiating and driving the development of the Yangtze River Delta and its surrounding areas," said Tang Huihao, the bureau director.
"Reaching 3 trillion yuan marked a significant milestone and a new starting point, from which we will pursue high­-quality development and elevate the core competitiveness of economic growth to achieve stable, healthy and sustainable development," he said.
The growth seen last year was partly driven by the coordinated development of the manufacturing and service industries, for which growth came in at 5.8 percent and 7.5 percent, respectively.
"Industrial production recorded its fastest growth since 2011 and the industries of high-­tech manufacturing and strategic emerging manufacturing manifested eye-­catching growth," Tang said.
Both production and sales of new energy vehicles soared, with gross industrial output increasing by 42.6 percent over the previous year. Tang attributed the upswing mainly to the government's green car subsidies, favorable license policies and a small original market size.
Manufacturing of medical equipment increased 11.2 percent year-­on-­year, which was also remarkable, Tang said. "A large number of innovative pieces of medical equipment emerged last year, breaking the monopoly of imports from foreign countries."
Sun Lijian, an economics professor at Shanghai­-based Fudan University, said such strong figures showed the city's powerful economic development momentum, under both the influence of the visible hand of the government and the invisible hand of the market from supply-­side structural reform.
"I also hope Shanghai can lead the country in exploring a successful model of the government and the market exerting a synergetic influence to create more products and services that the public will not only applaud but also buy," he said.
The city's statistics bureau said the real estate market in Shanghai had cooled last year and prices remained stable thanks to precise regulation. Real estate development investment growth in 2017 was 2.9 percentage points lower than in 2016, with market turnover shrinking as well.