Exploring the world with comfort
Viking Cruises endeavors to offer Chinese tourists premium experiences, bringing back the good old days
When Torstein Hagen started his career in the cruise industry more than 40 years ago, it was nothing like it is today. He said a cruise, whether on a seafaring ship or by river, should be quiet and elegant, rather than the currently prevalent profit-driven cruise model, which involves a bigger ship and more pressure to spend money on board.
With that purpose, Hagen is bringing his Viking Cruises to China, hoping to bring back the good old days via the privately run cruise line which came from Norway.
Viking Cruises opened its Shanghai office on Nov 1, 2017, announcing its 15-day European river trip specially designed for the Chinese market. The company's fourth seafaring ship, Viking Sun, which set sail on its 141-day world tour in December, will dock in Shanghai on March 8, marking the first visit from a Viking Cruises seafaring ship to China.
Established in 1997, Viking Cruises is an expert in European river trips, featuring itineraries on the Rhine and the Danube rivers. Over time, it started to expand into ocean trips in 2013, with its first setting off in 2015. Today, the company has a fleet of 65 river ships and four sea vessels, serving up to 400,000 tourists worldwide every year. The company expects to register a turnover of $2 billion for 2017 and a growth rate of 27 percent year-on-year.
As a privately owned enterprise, Viking Cruises said it is not hesitant when it comes to investment, which is a concern among many public companies, Hagen said. He explained that the conversation between him and his colleagues never starts with, "How much will it cost us?" Instead, the first question is, "Should we be doing it?"
Even at the age of 74, Hagen inspects every detail of his business. From time to time, his colleagues receive emails from him in the middle of the night, for example, looking to confirm if complaints he has read online are true.
He said such scrupulousness is probably written in his DNA. As a Norwegian, Hagen emphasizes equality. Even when describing the company's target consumers, he would rather describe them as "comfortably well-off" rather than "middle-class".
This is the level of respect that Norwegians show as they grow up in a classless society, Hagen added, and the kind of respect that Viking Cruises shows to their guests.
In his exclusive interview with China Daily, Hagen talked about his understanding of the Chinese market, his rich experience in the cruise industry and his management style.
s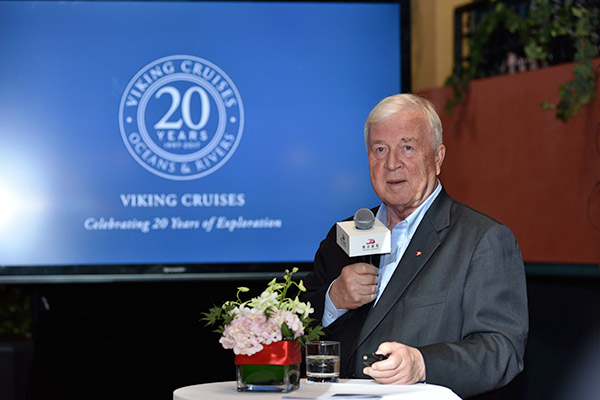 Who are your target consumers in China?
It's a pretty healthy mix. First is the 50-plus-year-olds who have worked hard, want a slightly slower pace of life and a pleasant holiday experience. Then it's the 30-somethings traveling with their parents, who also want to bring along their 15-year-olds to see the world, making it three generations.
In general, our target consumers are comfortably well-off. They are experienced travelers who understand traveling is about local cultural immersion, about getting to know the people and places, and about seeing beautiful things.
How do you differentiate yourself from the many other cruise lines that operate in China?
One of the challenges we have is the way that some travelers are only familiar with the very low-priced options. On these trips, the customers get to their destination and they are forced to shop. There are a lot of similar ways that those cruise lines look to get their money back.
We cannot compete if compared on the price point. But with us, travelers can get on a ship and leave their wallets at home, because everything is included. It's also our way to encourage people to save. Actually, having one better experience can be more meaningful.
Language is certainly important. Food is a matter of balancing comfort with new experiences. Sometimes at midnight some Chinese travelers want noodles, saying that it is important to the spirit of the whole trip. Knowing that there is comfort food back at base encourages travelers to try the local stuff, because they know, "If I don't like this, I can have something that I do like later."
Each group of people has a different itinerary. We respect that not everyone comes to Europe just for shopping nowadays. But, a lot of people do want to shop when they are in Europe. So, in certain cities, they want more free time. We work with the largest consulting practices to conduct extensive research to decide every little detail of our trips. Yet, it wouldn't be the same for all our markets and we can't be everything for everybody.
We have a variety of onshore experiences in Europe and the cruise includes every ticket for every venue we take travelers. We offer a trip to a local pub in Germany for guests who want to try out pub life. We have fondue tasting in Switzerland, so people can try the local food. We even provide a trip to the summit of Jungfrau, fully inclusive. It doesn't just cost five euros ($5.90) to go up the mountain. So when all those costs are put in, we offer great value.
While other cruise liners have mobile payment facilities on their ships to encourage travelers to spend more while on board, you seem to downplay that kind of consumption. Why?
There are two approaches in this industry. One approach is to get travelers on the ship with as cheap a fare as possible, and then encourage a lot of small purchases to make up for it.
This has been the model of the big guys for a long time, but people don't really like it. Those who can afford the trip would much rather say, "Let's just pay for it once and be done with it". People don't like to be nickeled-and-dimed. Premium and luxury products are in fact more inclusive.
The big cruise line model is broken, but that's just our opinion. That's why they have so much emphasis on revenue management, and so on and so forth.
We have no sales pressure at any time. We are for serious people who are interested in culture. They know the value of their money. When people come to us, at the end of the day, they will say they learned something that they didn't know.
They probably have worked hard all their life. We shouldn't take advantage of them.
Business is often about timing. Did you open your China office because you had noticed a growing number of Chinese consumers are willing to pay extra money for premium products?
China is larger than the No 2 and No 3 markets combined when it comes to the dollar volume spent on outbound travel, and that is expected to continue. The Chinese are getting wealthier. They can afford more interesting things. They have also developed different tastes.
So we are really surprised that nobody has tried to offer a premium experience in this field. We believe we can be part of the solution. We thought we can make a difference in the market. So we think the timing is right.
Viking is an expert in river cruises. Do you have any plans to roll out such services in China?
Yes. We are doing so together with a company in Chongqing. We do not employ the staff directly, but we train and guide them. We have been selling that service in the United States since 2003. But for other river cruises in China, we will do it only when we can provide good enough value. We are not in this business just for immediate gains.
What will be the greatest challenge for your business in China?
First is the size of the Chinese market. China is culturally diverse. The Shanghainese point of view might be different from that of a person from Chongqing. The market is big, so we will try to equal it.
Then there is the pricing guarantee. We can guarantee the guests that for the price of the product sold to them today, we will not then sell it to someone else cheaper. If we do, we'll give them their money back. It's these types of things that build trust.
Some other companies in Europe claim they can offer the same things as us. But they cannot. This makes it a little challenging, as we have to overcome that breach of trust and show people that we keep our promises.
What are the connotations behind the name "Viking"?
The Vikings, from Scandinavia, were very courageous, bold seafarers and river-farers. I am Scandinavian. We all like to explore, educate ourselves and continue to experience new things. So our concept is, we are exploring the world with comfort.
What is your working philosophy?
I prefer the management team to agree on what we are doing, rather than to have a one-guy dictator. If I'm involved in something, I need to understand what I'm doing.
What's your definition of a great company?
A great company has three characteristics: You are loved by your guest; you are loved by your staff; and you are respected by your competitors.
CV
Age: 75
Nationality: Norwegian
Career:
1997 onward: Chairman of Viking Cruises
1980-84: CEO of Royal Viking Line
1976: CEO of Bergen Steamship Company
Former partner at McKinsey & Co
Former Holland America Line board member
Education:
Undergraduate degree in physics from the Norwegian Institute of Technology
MBA from Harvard University
Family: Married with two children