Consumer studies find Chinese want less and share more
Share - WeChat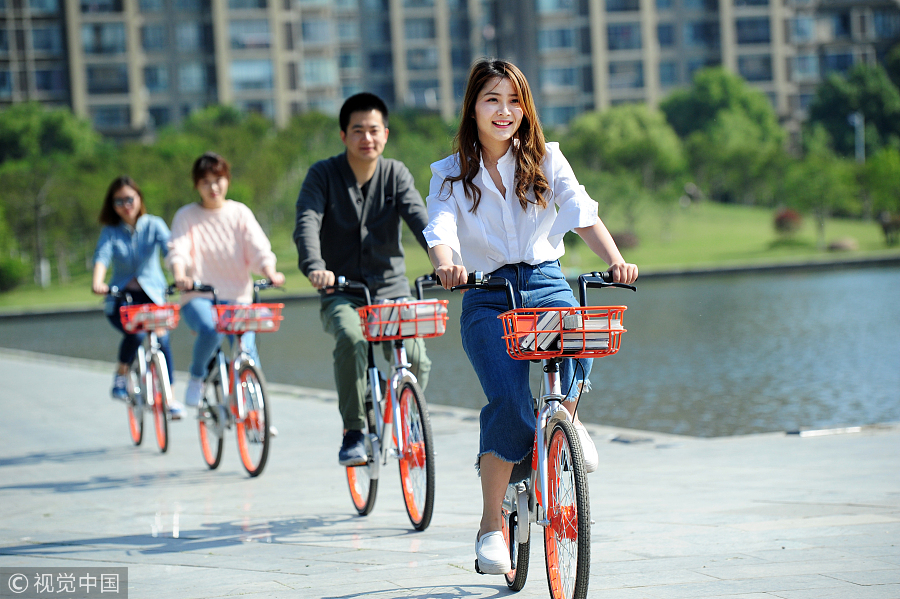 The modern Chinese consumer is healthier, less materialistic and more partial to local brands than ever before, according to research from market analysts in the United Kingdom.
Alison Angus, head of lifestyles at London-based market research company Euromonitor, said young Chinese people are committed to expanding the sharing economy and are more eager to spend money on experiences, rather than possessions.
Angus, who wrote the recent report Top 10 Global Consumer Trends for 2018, said many of the new behaviors among young consumers in China follow global trends, as the internet and social media increasingly bridges borders.
"Ownership is under question, and flexible, minimalist living is gaining popularity, with consumers sharing everything, from clothing, household items and pets, through to cars and living spaces," Angus said.
The sharing economy has firmly taken root in the transport sector in China, where dockless bike-sharing schemes and car-hailing services are abundant, and the phenomenon is spreading to all aspects of daily life.
Haier, a large Chinese home-appliance brand, has started short-term rentals of washing machines and other appliances, and errand rental services have also "taken off", according to Angus.
Through UU Runner, users pay "running men" to perform a variety of odd jobs, from queuing at registry offices to walking dogs and buying groceries.
A recent report from UK consultancy McKinsey found that Chinese consumers are also increasingly favoring local brands ahead of foreign ones, especially in certain categories.
In 2012, Chinese brands accounted for 43 percent of the market for personal digital gadgets, versus 63 percent in 2017. In personal care, Chinese brands made up 76 percent last year, compared with 61 percent in 2012, according to McKinsey.
Consumer preference for foreign brands remains strong in such categories as cosmetics, wine and fashion accessories.
Euromonitor found young Chinese consumers are spending less on possessions, and more on experiences such as short holidays and trips to the cinema, with ticket sales rising 13.5 percent last year.
Angus said this is, in part, driven by the rise of a Chinese counter-culture dubbed wenqing. The term derives from wenyiqingnian, which directly translates as "cultured youth" but perhaps is better expressed by the word "hipster".
"They are rejecting materialism, which sort of goes against the grain in China," Angus said. "They are looking for a life that is all about culture. They spend their leisure time reading poetry, going to art galleries, looking after pets and drinking less."
Both McKinsey and Euromonitor say that the recent health craze in China is here to stay. The instant noodle and soft drink markets have both contracted since the government laid out a national fitness plan in 2016, and rates of exercise continue to increase.
"Today, the number of Chinese running and doing exercise is higher than in the US, and sports-performance products have really increased," said Daniel Zipser, senior partner at McKinsey in Shanghai.