Man of steel backs cutting-edge technology
Share - WeChat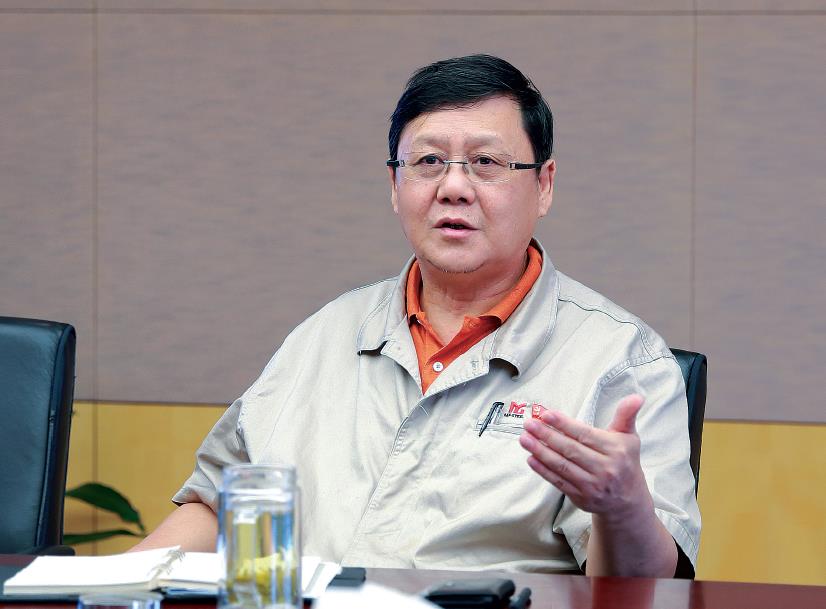 Chairman of leading producer sees big future, with more high-end uses
Gao Haijian believes it is vital for even traditional industries to be at the cutting edge of technology. The 60-year-old chairman of Magang Group, China's seventh-largest steelmaker, has led a transformation of the business, which is based in Ma'anshan, Anhui province.
Not only does it now have the largest train wheel production line in the world, but it also competes head-on in international markets on quality, and not just price, in a number of specialist steel areas.
"If you upgrade the quality of your steel, then you have a good name in the market and your steel can be used for more high-end applications," he says.
Gao, speaking in the boardroom of the company's head office in Ma'anshan in eastern Anhui, is an enthusiastic supporter of the government's Made in China 2025 strategy. Hefei, Anhui's provincial capital, was made a pilot city for the initiative this year.
"It is as much applicable to a business such as ours as to those in new industry areas. For a business like ours to succeed in international markets, we need to invest in technology and be ahead of the game."
It was being ahead of the game that allowed it to sign a contract on Nov 2 with Deutsche Bundesbahn, a German railway company, to provide 4,200 wheel sets - two wheels and an axle - for its trains.
Train wheels are now a major part of the group's business. It supplies 90 percent of the wheels for the cars of China's traditional non-high-speed trains.
It has also completed a 600,000-kilometer test at the China Railway Test and Certification Center to supply wheels for China's high-speed rail network, the largest in the world.
"This is a major opportunity for the company," says Gao. "We are finally succeeding in getting the license, after which we will be able to supply them the wheels that meet their requirements.
"High-speed rail is a very important industry for China, and there is a lot of expansion in the network to come."
Magang Group, which was established in 1958, dominates its home city, employing more than 43,400, many of them local people.
"We say that Chairman Mao decided to build a plant here and then build a city for the company," jokes Gao.
In the first 10 months of this year, the group achieved sales of 64.6 billion yuan ($9.8 billion; 8.2 billion euros; £7.3 billion), with a net profit of 4.3 billion yuan.
This was ahead of what it achieved for the whole of last year, when it returned a net profit of 1.07 billion yuan on a turnover of 54.41 billion yuan. This year's performance so far is the best since 2009.
Internationally, the steel industry has been recovering from a slump in prices in 2015 that was blamed by some Western steel producers on what they said was Chinese dumping.
"Chinese producers were falsely accused, although it is not new. Some years ago we had to deal with an anti-dumping case from the United States over HB steel, which is a product for high-level construction of skyscrapers and even used in vehicles. There was a long investigation, but we eventually won that," Gao says.
"There is a view of Chinese steel presented in the newspapers that is not quite right. We can compete fairly under the market laws like anyone else."
Gao says that when steel fell below 1,500 yuan per ton in December 2015, it was a real challenge to steel producers.
"It was terrible. At those sorts of prices, an assembly cannot run. It was nonsense. Look at steel now. It is back to 4,000 yuan per ton," he says.
As a result of the lower prices, Magang is in the process of cutting its annual capacity by 4 million metric tons, from 26 million in 2016 to 22 million in 2022.
"Things are a lot more stable now. The demand in the developed world and in the emerging markets picked up in the first half of this year."
Gao does not deny there has been a problem of private, often illegal, steel producers in the Chinese market in the past, and he says he welcomes government moves to bring in tough new standards this year.
"The problem operators haven't got a license. Some of them put up production in the middle of the night and melt steel with very poor equipment. They damage the market, and also some of this steel can enter the construction market. Certain regions of the country can have small earthquakes causing big cracks in their steel. People can lose their lives."
Gao, however, sees a big future for steel and steel products, with many more uses being found for the product, particularly at the specialist end of the market.
"One encouraging trend is housing construction in places like the UK, the United States, Japan and even Sweden with more and more houses built with steel structures rather than concrete.
"There is also an increasing demand for very thin specialist steel that can be used in furniture such as the back of armchairs or tables."
Gao, a larger-than-life personality who is a well-known business figure in China, is a steel man through and through.
He was born in Shanghai, but his parents moved to Ma'anshan when he was 6. His father, who had retired from the army, was chief of staff of the administration in the steel company, and his mother worked in the management office.
During the "cultural revolution" (1966-76), Gao was sent to the countryside nearby.
"It was just over the Yangtze River. I worked as a farmer, blacksmith and teacher. I was just a kid, really, and it was a very difficult time."
After it was over, he studied steelmaking at the local university before joining Magang in 1982 as a junior engineer, and he spent more than 15 years on the production line.
"I was involved in many areas like production management, engineering and technical aspects as well as project management," he says.
He became deputy general manager of the group, where he had primary responsibility for sales, among other aspects of the business, in 1997.
"I felt I was too young to be in such a high position. I was just 40. I felt there were so many other people better than me. I asked myself why I was given such a position.
"It was my personal philosophy not to be complacent, and it drove me to equip myself for the job."
He went on to become secretary of the company in 2008 before becoming chairman in 2013.
Gao, who also has an executive MBA from Tsinghua University in Beijing, says he is very interested in bringing ideas into the company.
He both travels - regularly attending the major steel conferences - and reads widely. Some of his recent reading has included Sapiens: A Brief History of Humankind by Yuval Noah Harari and Thomas Piketty's critique of modern capitalism, Capital in the Twenty-First Century.
"I read a lot, although it is mainly articles actually rather than books. They are a source of ideas.
"When I eventually retire, I would like to go into teaching again, perhaps teaching my grandchildren."
Some believe the future for Chinese steel companies might be in producing steel for the construction work taking place in Central Asia and elsewhere as part of China's Belt and Road Initiative.
However, Gao, while welcoming the government's move, says it can present a lot of challenges.
"We recently received an African delegation and wondered whether producing steel in their country would be worthwhile. Sometimes you feel there is a lack of understanding of what is involved in steel production. You need supplies of water and electricity, obviously, but you often don't feel you have the support from the local government or legal protection. The basic environmental conditions do not often support steelmaking."
He also believes that many of the Chinese construction companies in Central Asia will be forced to import steel rather than have it produced locally.
"Steel production takes a long time to set up, and as a result, it might be they have to pay a high price for imported steel in order to have the necessary steel at hand."
In the meantime, he remains encouraged that Anhui will benefit from being a part of the Made in China 2025 strategy, which he believes could add impetus to the inland province.
"Certainly this will remain a good place to make steel. We have the Yangtze, good natural resources and transportation. Steel is in the very makeup of the people here."
Contact the writer at andrewmoody@chinadaily.com.cn