Huawei looks afresh at low-end smartphone market
Share - WeChat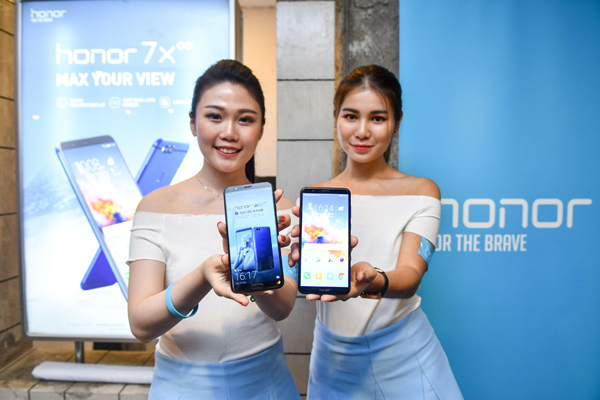 Chinese telecommunications giant Huawei Technologies Co Ltd has called for a greater focus on low-end smartphones, marking the latest move to better tap into the global market.
Huawei's President Ren Zhengfei had earlier said in an internal meeting that he would like to see a focus towards low-end smartphones in the future to cover the larger user base, the company said on Tuesday.
"It is important to use low-priced products to defend our high-end smartphone market to make more profits. Low-end smartphones meet the needs of the general public, accounting for 95 percent of the total consumers in the world," Ren said.
Ren noted that unlike the high-end Huawei-branded smartphones, the firm's low-priced smartphone brand Honor particularly targeted the younger consumers. In the future, Huawei will take the asset-light approach to support Honor's overseas development.
It signals Huawei's latest push to compete with key rivals like Apple Inc and Samsung Electronics Co Ltd in the global smartphone market.
Jia Mo, an analyst at market research firm Canalys, said with China's smartphone market saturating gradually and likely to shrink before the 5G era, smartphone vendors need to seek new momentum in the overseas market.
"Currently Huawei lacks the ability to challenge Apple and Samsung in the high-end smartphone market and the focus on low and middle-end market has become one of the firm's key strategies in 2018 to maintain growth."
"In the future, Huawei must utilize its channel advantages to compete with other counterparts in the overseas market," Jia added. "As the low-end markets have lower profit margins, Huawei cannot afford to have high marketing costs. The challenge will be how to develop a more localized strategy."
The strategy came shortly after Honor said last month it aimed to become one of the world's top five smartphone brands in three years.
Zhao Ming, president of Honor, said the firm will invest more resources to target the United States and Europe, with the aim of increasing Honor's overseas market share from 15 percent in its product sales to 50 percent by 2020.
Huawei said it shipped 153 million smartphones in 2017, up by 10 percent from the previous year. Buoyed by the dual-brand strategy, the company also saw its global market share hit 10 percent, consolidating its position as the world's third-largest smartphone manufacturer after Apple and Samsung.
According to statistics from Sino Market Research, Honor accounted for 14.5 percent of the Chinese smartphone market in November last year, taking the top spot in the Android smartphone segment.
"Due to Honor's good performance, it has received more resources. I believe it has the potential to become a main force in overseas markets like Southeast Asia and India," Jia added.
Ma Si contributed to this story.