Vehicle sales post meager growth in Nov
Share - WeChat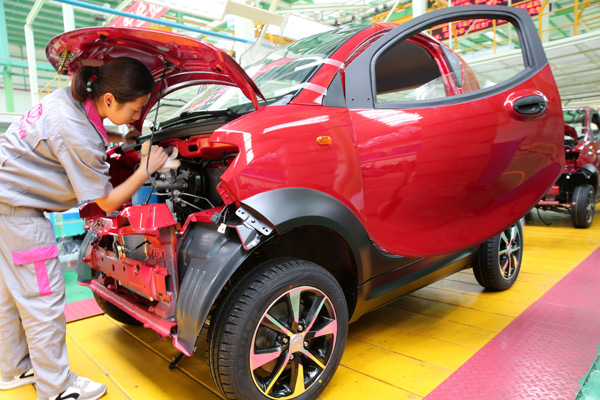 Vehicle sales posted a meager 0.7 percent year-on-year growth in China during November to 2.96 million units, according to data released by the China Association of Automobile Manufacturers on Monday.
Car sales in the first 11 months of the year totaled 25.85 million units, a 3.6 percent growth from a year ago. Although a decent figure if put in the global context, the growth rate is 10.5 percentage points lower than the year-on-year growth figure for January to November 2016.
Xu Haidong, an assistant to the CAAM's secretary-general, said the overall sales growth this year would "definitely fall to below 4 percent", beating the organization's estimate of 5 percent growth at the start of the year.
The lower sales numbers are due to a number of factors ranging from a purchase tax discount that is gradually losing its effect and the overall economic conditions in China.
The tax discount, which stood at 50 percent when introduced in 2015, has been halved from January this year and will expire by the end of this month. "The trend is clear. Growth will slow down even further next year," he told China Daily, without giving an estimate.
Passenger cars, which account for bulk of the car sales, saw even slower growth than the overall figure. A total of 22 million passenger cars were sold from January to November, a 1.9 percent growth year-on-year.
Even that meager growth would have been impossible without sports utility vehicles, whose sales grew 14.5 percent year-on-year to 9.09 million units while sedan sales dipped 2.3 percent. Sales of multi-purpose vehicles fell 16.5 percent, while that of minivans slumped 20.1 percent in the same period.
New energy cars, which consist of electric cars, plug-in hybrids and fuel-cell cars, however, saw solid growth.
A record number of 119,000 units were sold in November, surging 83 percent year-on-year. Sales in the first 11 months reached 609,000 units, a 51.4 percent growth year-on-year.
"Their development is in line with our expectations. It is now almost certain that their sales this year would reach our whole-year estimate of 700,000 units," said Xu.
"We are confident in new energy cars and see no problems in their sales reaching 1 million units in 2018."
Charging networks for such vehicles have also been growing rapidly, with a total of 431,800 charging poles built by the end of November, according to the China Electric Vehicle Charging Infrastructure Promotion Alliance.
Commercial cars, including buses and trucks, also reported a decent sales performance. In November, 368,000 vehicles were sold, a 7.3 percent rise from the same month last year.
That brought sales in the first 11 months to 3.75 million, up nearly 15 percent year-on-year, 11.2 percentage points higher than the industry's average.