Chinese electric startup Byton has set up office in Silicon Valley
Share - WeChat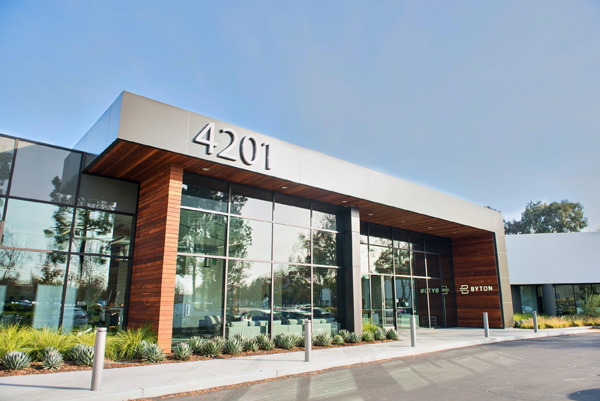 Carmaker chooses strategic positions as global digital mobility era dawns
Chinese intelligent electric car startup Byton, which derives its name from "Bytes on Wheels", has driven into the United States, with its North American headquarters in Silicon Valley having become fully operational.
The key focus of the facility is developing cutting-edge technologies, including intelligent car experience, autonomous driving, whole vehicle integration, as well as developing and overseeing operations in the North American market, according to the carmaker.
"Byton's idea of marrying the automotive industry with digital technology is well in line with the development direction of technology as represented by Silicon Valley," said CEO Carsten Breitfeld.
"Silicon Valley's strength in technology and talent will provide powerful support for Byton's R&D endeavor in intelligent driving."
Since its inception in 2016, Byton has made its global vision clear by establishing a strategic presence in China, Germany and the US, as the global digital transformation in the mobility sector comes of age.
Byton's global operations center, manufacturing base and global R&D center are located in Nanjing, capital of Jiangsu province in China. The R&D center responsible for the design of prototypes and concept models is based in Munich, Germany.
The North American headquarters, which cover an area of 80,000 square feet, has more than 120 employees, bringing together a number of leading talents in smart connected technology from across the world.
Among them are Tom Wessner, senior vice-president of global supply chain, and Jeff Chung, vice-president of intelligent car experience.
Before joining Byton, Wesser was a Tesla executive who established the purchasing and quality functions capable of attracting global suppliers to fuel the rapid growth and success of the Tesla Model S sedan. Chung led multiple system engineering teams in designing Mac products at Apple Inc.
"Byton's core management team combines the R&D and manufacturing experience of traditional premium carmaking with strengths in digital innovation and technology, thanks to our group of talents in automotive design, engineering and manufacturing, electrical powertrain, smart connectivity, autonomous driving, intelligent car experience, supply chain management, marketing, and more," said President Daniel Kirchert.
"This will serve as a critical guarantee for Byton's quality growth and development, and differentiation. The additions of Tom Wessner and Jeff Chung further boost Byton's technological strengths in innovative supply chain management and development of intelligent vehicle user experience."
Byton is positioning its products as the "next generation of smart devices for shared mobility and autonomous driving", and the all-new smart human-vehicle interface is a key feature.
Its cars will feature a 49 inch by 10 inch large-size screen for shared experiences, and a touch steering wheel as well as gesture recognition, facial recognition, and emotion recognition, laying the foundation for shared and smart mobility, and auto piloting.
Byton will make the global debut of its first drivable SUV prototype at Consumer Electronics Show 2018 in Las Vegas in January.
It said the model will offer a smart, safe, enjoyable and eco-friendly driving experience with a groundbreaking design language and vehicle-to-vehicle communication system.
Its first production SUV will launch in the fourth quarter of 2019, while a sedan and an MPV are scheduled to hit the market in 2021 and 2022.