NEV investment curbs to loosen
Share - WeChat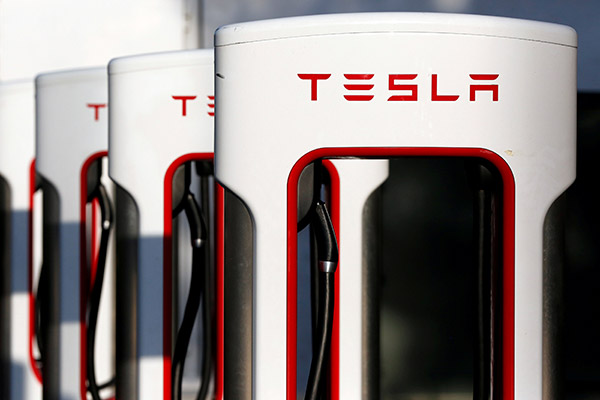 A Tesla Supercharger station is shown in Cabazon, US. [Photo/Agencies]
Rules being drafted expanding foreign capital input on electric cars, batteries
China will release guidelines to reduce foreign investment restrictions on new energy vehicles as soon as possible, the Ministry of Commerce said on Thursday.
The ministry is coordinating with other government branches including the Ministry of Industry and Information Technology and the National Development and Reform Commission to draft new guidelines for foreign companies to invest in electric cars and battery products.
Ministry spokesman Gao Feng said the Chinese government had already decided to open the new energy vehicle manufacturing business to global companies since the country expanded foreign companies' investment options in June.
Gao said this in response to a foreign media report on Thursday that China may allow foreign companies to establish new energy vehicle businesses with sole proprietorship in China.
New energy vehicle sales amounted to 320,000 vehicles, jumping 30.2 percent year-on-year between January and August in 2017. This accounted for 1.8 percent of the country's entire 17.51 million automobile sales, according to data issued on Sept 12 by the China Association of Automobile Manufacturers.
"The electric vehicle boom is recognized as a result of China's intensified financial support, including tax deductions and subsidies," said Chen Bin, executive vice-president of the Beijing-based China Machinery Industry Federation.
Under such circumstances, Chen said it is vital that China's burgeoning new energy vehicle industry shift its focus from outsourced tasks to independent research and development.
The Ministry of Finance is mulling further supportive policies beyond financial approaches, given that the subsidy scheme will end by 2021.
The Chinese government defines new energy vehicles as fully electric cars, plug-in hybrids and fuel cell cars, but excludes mild hybrids without plugs for recharging.
Eager to seize a greater market share, Volkswagen AG also signed an agreement in June with China's JAC Motors to build a joint venture dedicated to producing and selling new energy vehicles in China. The German automobile producer is already partnering with FAW and SAIC to produce gasoline cars.
At Thursday's regular news conference, Gao said: "Foreign and domestic companies are treated equally in China and foreign firms should not have concerns about investing in China. China has never required any foreign companies to transfer their technology to the Chinese side", he said.
Gao's comment came after US Trade Representative Robert Lighthizer said on Monday that China was a "threat" to the world trading system.