Smell danger by reading the lead
Share - WeChat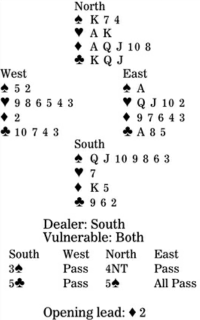 Elizabeth Taylor said, "Success is a great deodorant. It takes away all your past smells."
A bridge expert has an acute sense of smell. He notes an unpleasant aroma wafting across the table when the apparent facts don't add up. He then tries to work out who has been telling fibs. Or, he uses his olfactory organ to smell out the meaning of a lead-as in today's deal.
How should South play in five spades after West leads the diamond two?
It is a good idea to use four clubs as modified Roman Key Card Blackwood over a two- or three-level preemptive opening in diamonds, hearts or spades. The opener's replies in steps are: no key cards; one key card; one key card and the trump queen; two key cards; two keys and the trump queen. Here, that would have permitted North-South to stop in four spades.
In five spades, there will be a natural reaction to win the first trick and play a trump. However, East will take that trick, give his partner a diamond ruff, get back on lead with the club ace and unsuccessfully lead another diamond, trying for down two.
When a two-spot is led in an unbid suit, it is either from a long suit headed by at least one honor or a singleton. Here, West cannot have a diamond honor, so he has led a singleton.
As no doubt you have noticed, to avoid suffering that ignominious ruff, South must first play off dummy's two heart winners and discard his remaining diamond. Then he can play a trump. Yes, East cashes the club ace and leads a diamond, but South ruffs high, draws West's last trump and claims.
Most Popular