Chinese company wins second prize in Prince Andrew's startup contest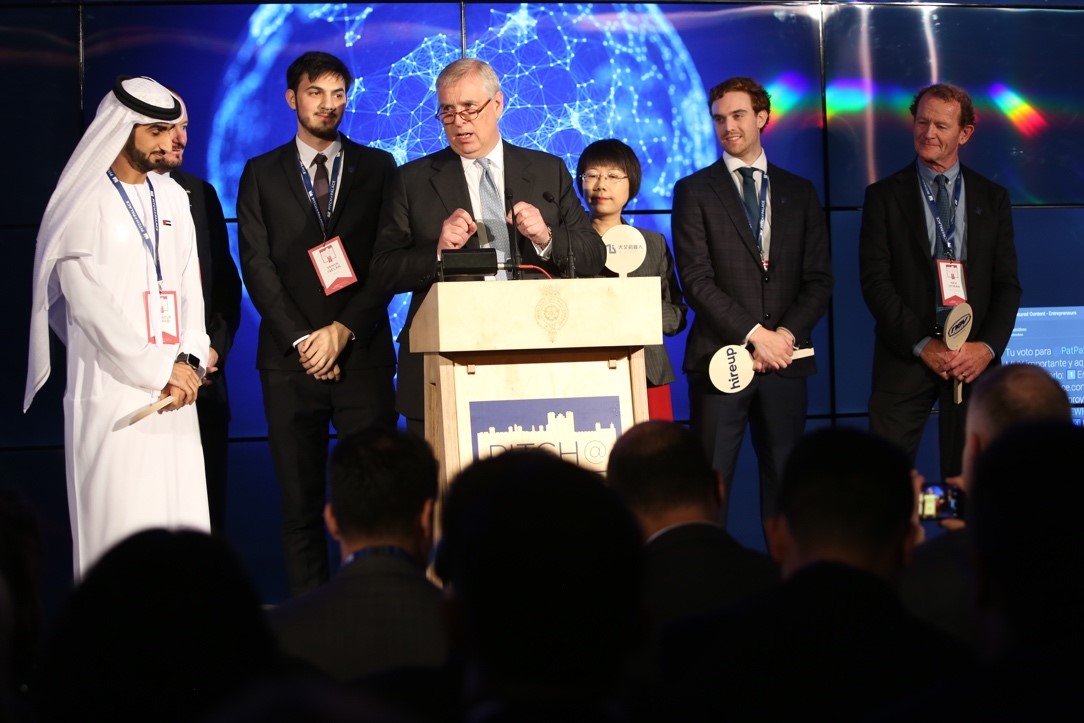 A Chinese medical technology company has won second prize in the global finals of Prince Andrew's worldwide startup competition Pitch@Palace, which culminated at St James's Palace in London on Wednesday.
The Pitch@Palace global finals featured 14 startups – including four Chinese businesses – that had advanced through regional contests across five continents.
Second-placed AI-Robotics Technology was picked after the audience,which included potential investors and British business leaders, was polled.
The company, which comprises post-doctoral students from Beihang and Tsinghua universities in China, creates devices for people living with physical impairments.
During the company's pitch, a man who had previously been rendered immobile due to a spinal injury demonstrated the company's lower limb exoskeleton device, which allowed him to walk again.
"We help patients walk again, to get their normal lives back," Wang Qiao, AI-Robotics research and development manager, told China Daily. "This competition is a global platform so we can show our technology to the world and try to find help – from the Royal Family, or other people in British society – to try and get us into the UK and European market to help more patients around the globe."
The company is holding clinical trials in China, and the team hopes that their success at the Pitch@Palace event will help establish trials in the United Kingdom.
The competition featured three other Chinese companies: travel solutions enterprise Aoorey Global; ear-health technology business Sesame World Technology and Beijing Puquan Scientific Technology, which has developed an underground irrigation system.
Andrew added: "I'm really pleased that the Chinese are very well represented at this evening's event and I'm looking forward to conducting next year's pitch in China … which is going to reinforce the relationship between China and the United Kingdom."
He said last year's regional competition in China was much bigger than anticipated.
"We held a really successful event in China in 2017, and next year is an even more ambitious year," he said. "Only China could present us with the biggest dilemma that we've had, which was that Pitch@Palace supports 42 businesses at each event – in China, they presented us with 20,500 businesses, which we had to whittle down to 42."
First prize went to Australian business Hireup, an online platform that connects people with disabilities to care workers.
"The Chinese businesses this evening and throughout the program have been utterly brilliant," said Andrew, who started Pitch@Palace in 2014.
The initiative also acts as a network and incubator for its alumni. Together, participating companies have generated more than 500 million pounds ($667 million) of economic activity and created 1,600 jobs, according to the organization.