Huge 5G rollout to see Chinese telecoms take center stage
Share - WeChat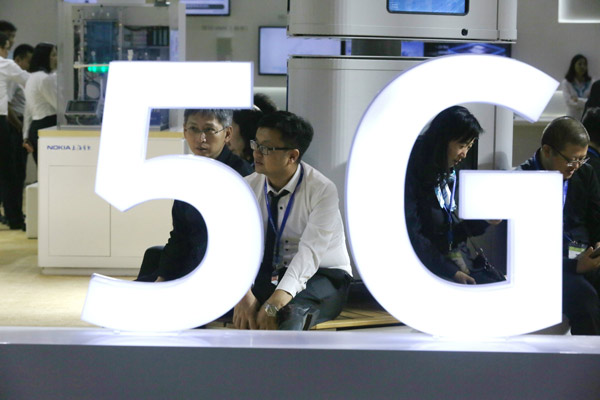 The emerging 5G mobile communications technology is expected to help the global telecoms industry to create $3.5 trillion of output and generate 22 million jobs by 2035, according to a Qualcomm report. [Photo provided to China Daily]
Local groups scramble to gain competitive edge as technology becomes a reality
Chinese companies are scrambling to gain a lead in the race to commercialize 5G-or the next-generation mobile communication technology-as the country evolves from being a follower into a pioneering player in the global telecoms arena.
The super-fast 5G network is expected to allow consumers to download an 8-gigabit movie in seconds and help to make autonomous driving a reality, causing ripples across most industries and sectors in a new internet revolution.
The mobile technology is so important that it was highlighted in the government work report delivered by Premier Li Keqiang during this year's National People's Congress session in March. A report by the China Academy of Information and Communication Technology predicted that 5G will drive 6.3 trillion yuan ($946.8 billion) of economic output in the country by 2030.
China Mobile Communications Corp, the world's largest telecoms carrier by subscribers, said it aims to deploy more than 10,000 5G base stations by 2020 and aims to launch a pre-commercial 5G service in 2018.
Last November, the Beijing-based company outgunned foreign rivals to lead the global 5G System Architecture project, which it said will determine the "structure of 5G networks".
It came shortly after polar coding, a technology backed by Chinese telecoms equipment maker Huawei Technologies Co Ltd, was approved as part of the global standards for 5G.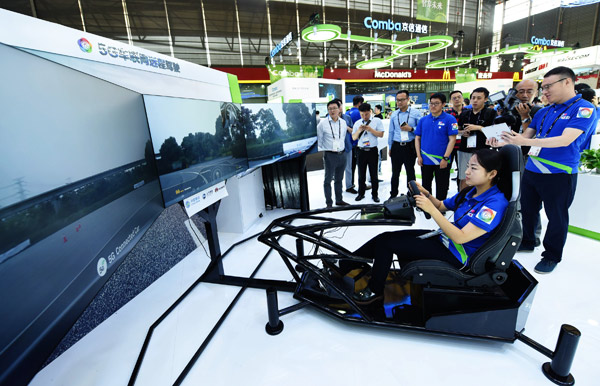 A visitor experiences 5G-based internet of vehicles techology at a communications show in Shanghai in June. [Photo by Long Wei/For China Daily]
"The progress highlights the rising influence of Chinese companies in the global telecommunications arena," said Xiang Ligang, CEO of telecoms industry website Cctime.
"It is a recognition of both their technological prowess and their brand influence." Currently, 5G standards are still under development by 3GPP, or the 3rd Generation Partnership Project, which promotes global wireless communications standards.
But the body announced it will accelerate the process and lock down the first version of global 5G standards around June in 2018-signaling that little change would be expected to current technical specifications and vendors can get to work on standardized 5G equipment, experts said.
To pounce on the opportunities, China is rushing to finish its own series of 5G trials. The country's telecoms authority said in November that the country has started the third phase of 5G technical tests, as it aims to get pre-commercial 5G products ready as soon as possible.
Wen Ku, director of the telecoms development department at the Ministry of Industry and Information Technology, said developments will be ramped up.
Wen said more efforts will be made to accelerate tests on network planning, systems, chips and other products in the industrial chain, which will help to lay down a sound foundation for the fast development of a 5G network in China.
The country has already established the world's largest 5G test field in Huairou district, Beijing, where about 30 telecom base stations were built and China Mobile, Huawei, ZTE Corp and a string of foreign tech companies have finished China's second phase of 5G research and development tests.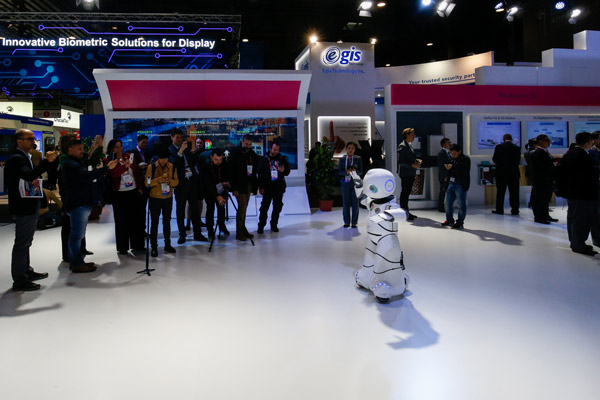 A 5G-connected robot performs at the China Mobile stand during the Mobile World Congress in Barcelona, Spain, in February. [Photo provided to China Daily]
To accelerate the path to 5G, MIIT also detailed frequency bands-both low, medium and high frequencies are involved-for the development of the super-fast networks in China.
"A frequency band is as important to telecoms carriers as land is in the real estate industry," said Fu Liang, an independent telecom analyst.
"Specifying the designated frequency band for 5G tests will motivate enterprises to channel resources to that band, thus promoting faster development."
Companies are also building up massive financial resources to exploit the opportunities that will come.
US investment bank Jefferies said China's mobile carriers will invest at least $173 billion in 5G construction from 2019-25, an increase of 48 percent on the total spend on 4G from 2013-20.
"5G will no longer be a simple technology or system," said Huang Yuhong, deputy head of the China Mobile Research Institute.
"Instead, it is a platform in which the telecoms industry needs to be deeply linked with other sectors. That is a fundamental difference between 5G and 4G."