HTC launches new VR headset
Share - WeChat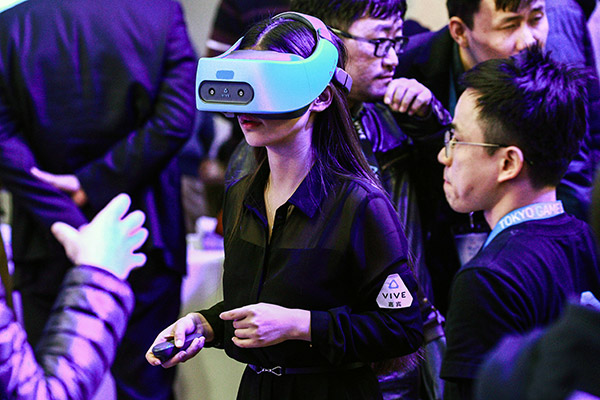 A visitor checks out a Vive Focus at a developer conference held in Beijing. Users can enjoy the device without attaching it to personal computers or smart phones. [Photo provided to China Daily]
Taiwan firm's affordable standalone device to target young consumers
Taiwan-based HTC Corp unveiled a premium standalone virtual reality headset for the mainland market on Tuesday, as part of its broad efforts to target young consumers with a more affordable device.
Without the need to be attached to a personal computer or a smartphone, Vive Focus, as the new product is called, provides unlimited freedom of mobility while reducing the total cost for users to own a premium VR device.
Alvin Graylin, head of HTC's VR business in the mainland, said the version for developers will soon be available in the market and the specific price tag will also be released.
The new device came after Google said in September that it would buy part of HTC's smartphone team for $1.1 billion, which gives the latter abundant capital to up the ante in VR.
HTC is locked in a fierce race with Facebook Inc and Sony Corp to wrestle control over the emerging industry.
On Tuesday, HTC also unveiled Vive Wave, a VR open platform and toolset that is designed to promote the development of mobile VR by reducing the time and effort needed to transform PC VR content into those suitable for mobile devices.
About 12 hardware partners, including 360QIKU, Baofengmojing, Coocaa, iQIYI, Nubia, and Thundercomm, announced their support for the integration of Vive Wave into their future products.
Vive Wave allows developers to create content for a common platform and storefront across various hardware vendors, HTC said in a statement.
More than 35 global content developers have already built VR content optimized for Vive Wave, with 14 showing live demos at the Vive Developer Conference held in Beijing on Tuesday.
According to Graylin, about 400 companies in the mainland are working on VR standalone products, which are creating disorders in both price and quality.
"As the VR industry leader in China, it is our duty to help reduce market fragmentation and provide content developers with more ways to make money," he said.
"Vive Wave will assure a higher consistency in the user experience on a variety of mobile VR devices across various price points, making quality VR more accessible to the mass market," he added.
Jason Fan, chief operation officer of Beijing Chuansong Technologies Co Ltd, a startup which developed a wireless solution for HTC Vive, said the new VR product is a right move to educate consumers what VR is by bringing down the price of VR headsets.