iFlytek plans incubators for startups
Share - WeChat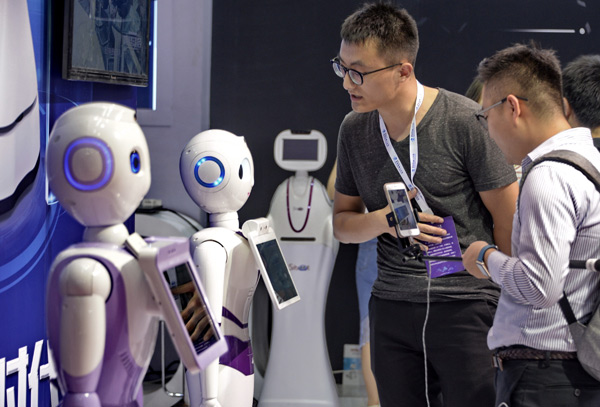 Robots, made by iFlytek Co Ltd from East China's Anhui province, on display at an industry expo held in Beijing. [Photo/Xinhua]
Leading Chinese artificial intelligence company, iFlytek Co Ltd, has announced it will set up a 1.02 billion yuan ($150 million) fund to support software and hardware developers. The move is part of its broad push to accelerate the application of AI in consumer electronics, healthcare and other industries.
The announcement came after the company's AI-enabled user interface platform accumulated 460,000 third-party developer teams in the past seven years.
Hu Yu, executive president of iFlytek, said the fund will be used to finance startups that have core technologies but lack business know-how, or companies that excel in commercializing products but are unable to integrate AI into their devices.
"As a company born out of the (Hefei-based) University of Science and Technology of China, we have been focusing on voice recognition technologies for 18 years. We know what problems technology-oriented startups will face and how to help traditional companies upgrade themselves through AI," Hu said.
The company's efforts are in line with General Secretary of the Communist Party of China Central Committee Xi Jinping's call to turn China into a country of innovators and to reach the frontiers of science and technology.
Innovation is the primary force driving development, Xi said in a report delivered to the 19th CPC National Congress on Oct 18. He called for more measures to cultivate young scientists, engineers and high-performing innovation teams.
Li Deyi, an academician at the Chinese Academy of Engineering, said because AI is being increasingly used in manufacturing, healthcare and other traditional industries, China is now in need of roughly 1 million AI specialists.
"Nurturing more AI professionals is key to being a world pioneer in cutting-edge technology," Li said.
According to iFlytek, it will partner with local governments across the country to build incubators to accelerate startups' growth. For instance, it has a 10,000-square-meter space in Changchun, capital of Jilin province, to help companies learn how to develop AI-enabled systems or gadgets for automobiles.
"We will not only offer software support and financial guidance, but also hardware components and an online AI curriculum," Hu said.
According to Hu, the company is partnering with Cambridge University in image recognition technology, and is planning to expand its presence in Europe by first entering into the United Kingdom.
On Tuesday, iFlytek also unveiled a smart microphone named Morfei, which has built-in voice recognition and natural language understanding technologies. The device is designed to lower the threshold for home appliance-makers and hotels to integrate AI technologies into their products.