Chile's CYT to tickle Chinese tastebuds
Share - WeChat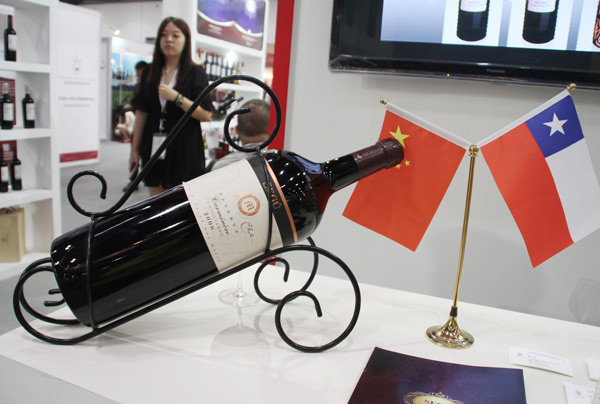 A bottle of Chilean wine on exhibition in Beijing. Chile's largest wine group, Vina Concha y Toro, is seeking to expand its business in China. [Photo by Wu Changqing/For China Daily]
South American wine group seeks to ride consumption upgrade and freer trade
Vina Concha y Toro or CYT, the world's second-largest wine group and Chile's largest wine group, is seeking to expand business in China where consumption upgrade and opening-up of trade are presenting fresh growth opportunities.
Collaboration with Chinese partners, developing products with China's local wine and liquor makers, and taking omni-channel distribution approach are the main measures the group has been taking in the China market, CYT's top executives said.
Alfonso Larrain, chairman of CYT, said China is already Chilean wine groups' largest bottled wine export destination. Some 5 million cases of bottled Chilean wine are exported to China annually, of which 1 million cases, or 20 percent, are from CYT.
"We are also increasing our output and hopefully will become the world's largest wine group," said Larrain.
By the end of 2016, CYT's annual sales in Asia reached 3.4 million cases that generated a revenue of more than $80 million. About 30 percent of its products were sold in China.
According to China Customs data, the country imported 253 million liters of bottled wine in the first half of this year, up almost 14 percent year-on-year.
Chilean wines are among the fastest-growing imported wines, with double-digit annual growth in the past three years, according to China Customs data.
In China, CYT collaborates with Yanghe Co Ltd, a traditional Chinese white liquor (baijiu) maker which has been tapping winemaking in recent years.
CYT and Yanghe jointly launched eight products based on research of Chinese consumers' preferences.
CYT also collaborates with imported wine arm of COFCO, China's largest food and beverage distributor. In China, COFCO's imported wine arm is the exclusive agent of Vina Maipo, one of CYT's brands.
In Chile, CYT uses its vineyard resources to develop wine-tasting tours for Chinese tourists. The "on-site" experience, it believes, will help Chinese consumers to become knowledgeable about Chilean wines.
Such tours started more than 15 years ago. Since then, some 20,000 Chinese consumers have visited CYT's vineyards.
In China, CYT uses multiple channels to distribute wine, with a focus on premium and sub-premium segments.
"Unlike the situation in other markets, such as the UK where 80 percent of wines are purchased in supermarkets, China's wine distribution is highly fragmented, with no channel significantly overwhelming another," said Rodrigo Jackson, managing director of CYT Central Asia.
"Based on the characteristics of each wine product we have, we allocate the most suitable channel, be it online retailers, restaurants, dealers and supermarkets," said Jackson.
CYT's products in China retail between 100 yuan ($15.11) and 500 yuan.
The group said it will invest more in collaborating with local chefs and restaurants to develop food-wine pairing options, in a bid to encourage consumption of wine in day-to-day scenarios.
As per wide-ranging Chinese cuisines such as the Sichuan style and the North China style, and given varying taste preferences of Chinese consumers, CYT would seek to develop wine-pairing options like recipes using Chilean wines as flavoring or marinating sources.
Market insiders said Chinese wine consumption is getting increasingly diversified, and wines are consumed in more situations than before.
"Wine groups around the world are allocating more resources to business development in the China market," said Dai Wenfeng, a Shanghai-based wine dealer.
"This is a good trend for consumers as it would enable them to have more options and closer access to quality products," said Dai.