XCMG shines its spotlight on high-end machinery products
Share - WeChat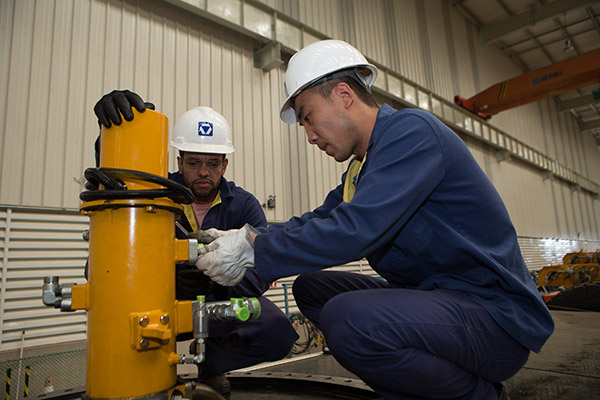 A Chinese technician (right) shows a Brazilian worker how to install crane-related equipment at an XCMG manufacturing base in Brazil. [Xi Zijian/for China Daily]
Xugong Construction Machinery Group Inc, or XCMG, one of China's top three heavy construction equipment manufacturers by sales revenue, will expand globally with a focus on acquisitions, intelligent manufacturing, and research and development of high-end products.
It will also focus on growing the domestic market share, its chairman said.
"The boom in the low-end market could blindfold enterprises. With orders flooding in, some machinery companies seem to be under an illusion that there is easy money to be made," said Wang Min.
"But now, things have changed. You need to climb to the top to be a winner. After five years of a quiet market, domestic as well as overseas demand is slowly pulling back this year. It poses a new challenge to XCMG."
So, XCMG has been focusing on technological breakthroughs in high-end manufacturing lines. It will continue to do so, instead of mass producing low-end products, Wang said.
"In August, XCMG shipped 12 units of the 30-metric ton excavators and mining machinery abroad, totaling $200 million in product value. It's an example that China can export high-end machinery, and that its industrial upgrade is successful."
Wang said the company's high-end heavy machinery, including excavators, concrete mixers, loaders and road rollers, has received positive feedback from the European market.
"The company will lock horns with market leaders while expanding globally. It will also acquire some companies."
Li Beiguang, deputy director of the planning bureau of the Ministry of Industry and Information Technology, said a large number of construction projects will start next year, so demand for new equipment may rise 10 percent year-on-year.
Wang of XCMG said: "Real economy is based on manufacturing. The Chinese government has formulated supportive policies for the manufacturing sector such as the 'Made in China 2025' strategy and financial support schemes."
Agreed Shi Yong, vice-president of Beijing-based China Machinery Industry Information Research Institute. "Good days for the industry do not mean good days for every company. When the overall market rises by 50 to 60 percent year-on-year, and if a company cannot grow at a similar rate, it means it's falling behind."
Li of the MIIT said: "The global economic growth is picking up in 2017 and hopefully will increase in 2018. We believe new markets, especially in Brazil, India and Russia, will keep growing. So, the machinery market will likely grow at around 10 percent."