Water, fire and stone: Beguiling island of Menorca
Share - WeChat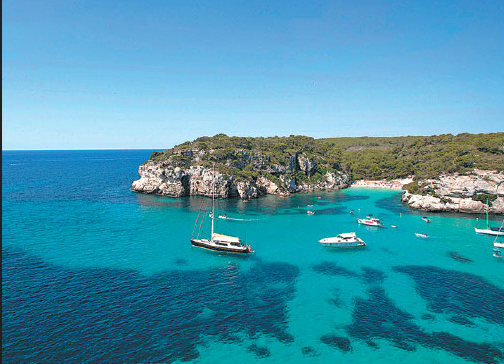 Boats sit in the water of Cala Mararelleta in Ciutadella, on the Menorca Island. [Photo/Agencies]
Locals say Menorca can be reduced to three words: water, fire and stone.
The Spanish island's three essential elements are embodied in Cova d'en Xoroi, a natural cave that houses a sophisticated lounge halfway down a cliff. As the sun dips into the Mediterranean, waves crash on the rocks below and selfie-snapping patrons burn the same roasted-orange color as the sun-bleached limestone. Then the staff lights torches under the craggy roof, and the stunning yet laid-back venue transitions into a lively nightclub.
Although the scene may sound as summery as a frozen mojito, it's repeated nightly well into autumn, when Menorca remains as beguiling as it is in peak season. Through much of October, it's still warm enough to enjoy the spectacular beaches, but visitors will find the island has plenty to offer besides sun and transparent blue waters.
Here's a quick look at Menorca and its vibrant cities, Mahon and Ciutadella, at a time of year when you just might have them to yourself.
Nature vs. nurture
Menorca is the farthest east of the Balearics, an archipelago between Spain and Italy that includes the better-known islands of Mallorca and jet-set Ibiza. All three enjoy an enviably mild climate in a picture-postcard setting, but Menorca's comes without the crowds or the 50-euro club cover charges. It has managed to hold on to an understated, calmer style by restricting development to a few existing, mostly low-rise resorts.
The entire 270 square mile (700 square km) island was declared a UNESCO biosphere reserve in 1993, and as a result, most of the 125 beaches that encircle Menorca's jagged coastline have very little, if any, development.
Along the south coast, walking paths that start at inland parking lots wind through forested ravines to the beaches. Cala Mitjana's powdery white sand is surrounded by cliffs, and the calm, shallow water makes it easy to explore a cave and the rocky crags with snorkeling gear. In the north, Cala Cavalleria is a little easier to get to but no less unspoiled.
The water may feel warm into autumn, but visiting after the peak summer months also means paying half-price for activities like hiring a boat with a private captain. Just plan ahead and check the weather for wind as well as temperatures.
Most Popular