UK food and drink exports to nation up
Share - WeChat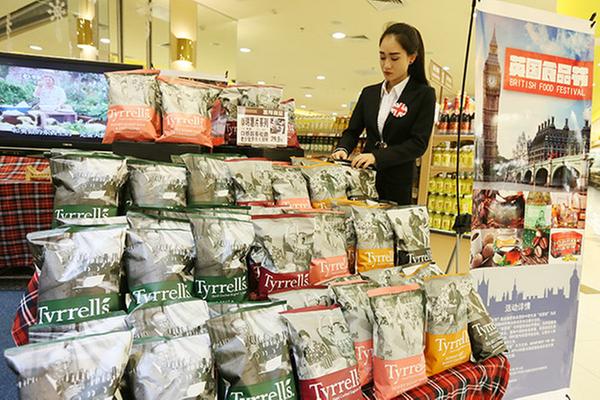 A saleswoman arranges shelves at a supermarket selling UK foods in Beijing. [A Jing/for China Daily]
British food and drink exports saw record growth in the first half of this year, rising by 8.5 percent year-on-year, buoyed in part by a 35 percent increase in exports to China, according to a report of UK's Food and Drink Federation.
The first half of the year saw exports of British food and drink grow to 10.2 billion pounds ($13.14 billion), up by 8.5 percent and representing the highest first half-year growth on record.
Whisky, salmon and beer remained the UK's top three food and drink exports. Ireland, France and the United States were the top three destinations for British products in terms of overall value.
UK food and drink exports to China from January to June totaled 274.3 million pounds, a 35 percent increase year-on-year. This represents the third-largest growth for an individual market, behind South Korea and Belgium where exports grew 77 percent and 39 percent respectively.
George Eustice, minister of state at the Department for Environment, Food and Rural Affairs, said: "We will continue to work with industry to open new opportunities. Last week, we announced further market access to China for pork producers, and UK beef will soon be heading to the Philippines."
On Aug 14, Eustice announced an increase in the number of pork exporters and products from the UK to China. Valued at 45.2 million pounds, salmon was the UK's top food and drink export to China in the first half.
In descending order, pork, milk and cream powders, whisky, beer, crustaceans, milk and cream liquids, waters, coffee and wine rounded out the top export products from the UK to China this year.
In terms of growth, beer was the outstanding performer. Britain exported 23.7 million pounds of beer to China in the first half of 2017. Crustacean and wine exports registered 179.8 percent and 98.7 percent growth respectively.