Joyson eyes Japanese air bag firm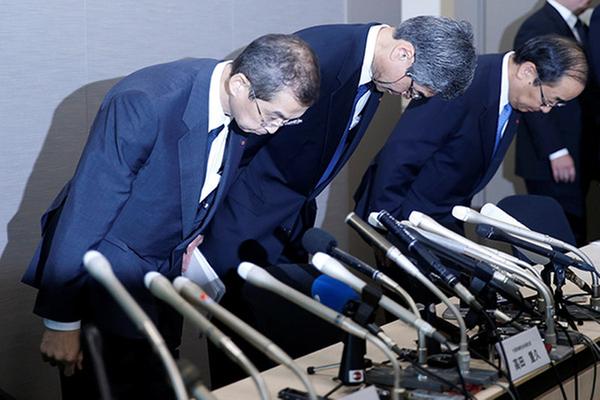 Takata Corp CEO Shigehisa Takada (left) and senior management bow as they attend a news conference after its decision to file for bankruptcy protection in Tokyo. [Photo/Agencies]
Chinese automotive parts maker Ningbo Joyson Electronics has set its sights on taking over debt-ridden Japanese air bag maker Takata Corporation, which is currently filing the largest bankruptcy case in the country's manufacturing history.
Shanghai-listed Joyson announced on Monday that its wholly owned subsidiary KSS Holdings Inc had signed a memorandum of understanding with Takata to acquire the latter's assets, excluding its ammonium nitrate propellant business.
The transaction is estimated at around $1.59 billion, according to the announcement. But the deal is still subject to following due diligence and negotiations, as well as the approval of the world's 14 leading vehicle manufacturers and Takata's bankruptcy commissioner.
Founded in the 1930s as a textile maker, Takata started producing seat belts for Japanese automakers in 1960.
In January, Takata admitted to concealing potentially fatal risks from its exploding air bags because of the ammonium nitrate inside for about 15 years. The faulty air-bag inflaters are linked with at least 17 deaths and 100 injuries worldwide.
The number of cars recalled-which started eight years ago-has snowballed to 100 million globally, affecting models made by leading manufacturers such as Honda, Ford and Volkswagen.
Court filings show that Takata has filed for Chapter 11 bankruptcy in the US state of Delaware, listing more than $10 billion in liabilities.
The Tokyo Stock Exchange said that Takata will be delisted from July 27. The market value of the company has slumped by 75 percent since talk about its bankruptcy started to be heard in the market.
Joyson said in the announcement that it looks forward to expanding its production capacity, exploring new markets and updating its technologies by acquiring Takata's major assets. Takata also produces seat belts and steering wheels.
Joyson Electronics rose 1.14 percent to close at 32.06 yuan ($4.67) per share on Monday while the benchmark Shanghai Composite Index went up 0.87 percent.
According to Wang Liusheng, a senior analyst at China Merchants Securities, KSS is very likely to seize market share from Takata in terms of air bags, substantially boosting its profitability in 2018.
Established in 2004, Joyson Electronics acquired KSS for $920 million in 2016, which helped Joyson to see its income surged by 129.5 percent in fiscal year 2016. It also acquired German automotive information system provider TechniSat Digital GmbH Daun for 180 million euros ($201 million) in the same year. In 2011, it acquired German automotive parts company Preh for 1.6 billion yuan.
However, Shui Xu, an independent automotive industry analyst, said that acquisition is only the very first step.