SUV sales bucking industry-wide trends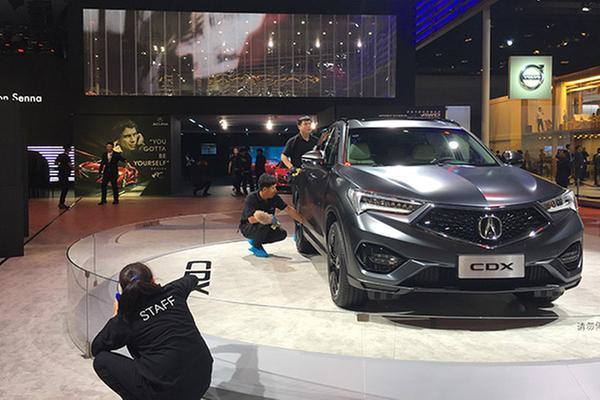 SUVs are a highlight of this year's Shanghai auto show, which was the largest of its kind in China. [Photo/China Daily]
Despite falling numbers, larger models and new energy offerings remain popular
SUVs are rising as the savior of China's passenger car market, which has been losing momentum this year, with their popularity expected to endure for some time, said industry insiders.
In May, 1.75 million passenger cars were sold, a 2.6 percent slip year-on-year, according to statistics from the China Association of Automobile Manufacturers.
The drop would have been deeper if not for SUVs, of which sales were up 13.5 percent from May 2016, while all other segments - sedans, MPVs and minivans - fell that month, with drops ranging from 9.3 percent to 25.2 percent.
That has been the situation for the year so far. From January to May, China sold 9.42 million passenger cars, edging 1.5 percent from the same period last year, and SUVs were the only segment that saw positive growth - 17 percent year-on-year.
Chen Shihua, an assistant to CAAM's secretary-general, said the popularity of SUVs will continue until at least 2019, and that by the end of this year their sales may reach the level of sedans, which have been the largest segment of passenger cars.
In the first five months of this year, 4.51 million sedans were sold while SUV sales reached 3.78 million units.
Chen said the continued popularity of SUVs in China is due to their recent expansion into all classes, as carmakers see people's enthusiasm for vehicles that have a strong look, more space and offer drivers better vision.
CAAM statistics show that the share of SUVs in the passenger car market almost tripled from 13 percent in 2012 to 37 percent in 2016, while the share of sedans fell from 69 percent to 50 percent in the same period.
The trend has continued this year, with SUVs taking up 40 percent in the first five months and sedans shrinking further to 47 percent.
At the Shanghai auto show, China's largest car exhibition this year, automakers debuted nearly 50 SUVs to woo customers.
GAC Motor, one of China's bestselling SUV producers, plans to release five SUV models this year, more than half of all models scheduled to hit the market this year.
"If the market wants more SUVs, then we provide more SUVs," said Wang Qiujing, president of GAC's Automotive Engineering Institute, at the Shanghai auto show in April.
John Zeng, managing director of LMC Automotive Shanghai, believes people's enthusiasm will definitely continue for some time, although carmakers might later lower the proportion of SUVs in their portfolios as the country tightens up its emissions standards.
The Chinese car market as a whole is losing momentum, too. In May, 2.09 million vehicles were sold, a 0.1 percent slip year-on-year, marking the second time car sales saw a monthly fall this year, according to the CAAM.
Xu Haidong, another assistant to the organization's secretary-general, said May is traditionally an off season for car sales, but added that the situation could continue into August, as many bought cars last year thanks to a favorable purchase tax policy.
The May sales brought the total number in the first five months this year to 11.18 million cars, for 3.7 percent growth year-on-year.
The CAAM estimated earlier this year that the country's sales in 2017 could grow 5 percent from 2016, when more than 28 million cars were sold.
Zeng at LMC is less optimistic, saying the overall growth rate may struggle to reach 2 percent.
"The situation was worse than we expected, and performance in the third and fourth quarters could be even worse as the sales in the same period last year were driven very high due to the favorable tax policy."
New energy vehicles had a better performance than gasoline ones. In May, 45,000 electric cars, plug-in hybrids and fuel cell cars were sold, a 28.4 percent surge from May 2016. That brought this year's new energy car sales to 136,000 vehicles, for 7.8 percent growth year-on-year.
The CAAM estimated at the start of the year that their sales could hit 800,000 vehicles in 2017. Xu said the organization is confident in the market and will not alter the estimate. China sold 507,000 new energy vehicles last year, ranking first worldwide.