Computers remain undefeated on chess board for 20 years
Share - WeChat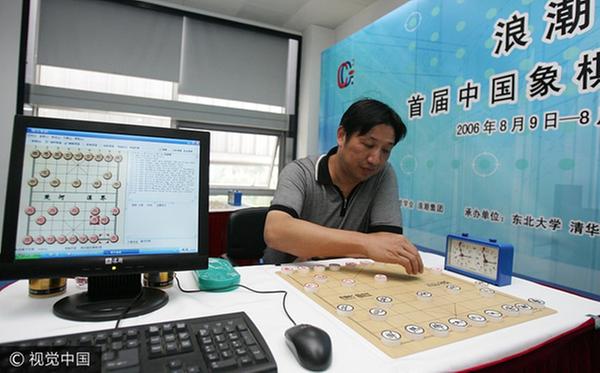 Inspur, a Chinese-chess computer,competes with Chinese grandmaster Liu Dahua at the first Inspur Cup Chinese Chess Human-and-Computer Match in Beijing on August 9, 2006. [Photo/VCG]
Inspur vs Chinese chess masters (August 2006)
Inspur, a Chinese-chess computer, defeated five grandmasters on its debut at the first Inspur Cup Chinese Chess Human-and-Computer Match. The machine scored three wins, tied five times and lost only two to Chinese-chess players.
The Chinese chess board was also very different from the one being used in Western chess matches. International chess pieces are played on squares, and Chinese chess pieces are played on line intersections which are called points. The playing field,a grid of nine files and ten ranks, sits about 40 percent larger than a traditional Western chessboard.
Inspur, developed by a Shandong-based IT group of the same name, was armed with five different software programs operating simultaneously.