CREG digs deep to expand abroad
Share - WeChat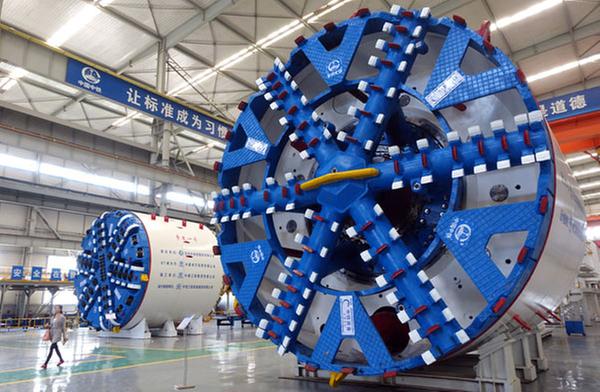 Tunneling machines stand ready for delivery at the China Railway Engineering Equipment Group Co plant in Zhengzhou, Henan province. SHA LANG / FOR CHINA DAILY
China Railway Engineering Equipment Group Co, the country's biggest manufacturer of tunnel boring machines by both production capacity and revenue, will ship eight sets of the giant machines to international markets including Israel and Singapore in the second half of this year, its chairman said.
CREG, a unit of State-owned China Railway Group Ltd, focuses on the development and production of shield tunneling machines and tunnel boring machines. China used to completely rely on imports until 2008 when CREG independently developed its own shield tunneling machine after six years of research.
Chairman Tan Shunhui said CREG planned to establish new operation centers in Australia, the United States and Italy over the next three years.
He said it would build sales networks and team up with local dealers, as well as handling tender and bid processes in more overseas projects, especially those countries and regions related to the Belt and Road Initiative.
"Many of these opportunities come from these markets' growing demand for subway projects, water conservation, railways, highways and underground crossings," Tan said.
He said that undeveloped infrastructure poses a bottleneck to economic development in countries and regions related to the initiative.
The Zhengzhou-based company has so far produced some 592 tunnel boring machines for both the domestic and international markets, including 25 sets for international destinations such as Vietnam, Lebanon, India and Malaysia.
CREG's sales totaled 4.86 billion yuan ($704 million) in 2016, up 152 percent year-on-year, while export volumes last year reached 370 million yuan, up 203 percent from 2015.
The company said its tunneling machines had notable advantages over traditional excavators because they were safer, faster and more convenient. They can operate totally underground, without disturbing traffic above. Moreover, they freed up staff from dangerous work.
CREG already opened an operation center in Germany to handle European contracts and others in Singapore and Hong Kong to manage its Asian and African projects. It also supplied pipe jacking machines and auxiliary equipment to clients in South Korea and Iran.
"We found that many developed markets have increasing demand to expand their metro networks," Tan said.
He said the company's next priority was securing orders for tunnel-engineering equipment from high-speed railway projects in the United Kingdom and Turin's water improvement project in Italy. The company has more than 2,260 employees, including 80 technicians carrying out consultancy and after sales work in overseas markets.
Sun Fuquan, a researcher at the Chinese Academy of Science and Technology for Development in Beijing, said Chinese engineering equipment makers are set to become some of the largest beneficiaries of the Belt and Road Initiative.
"It is critical for them to enhance brand recognition and a localization process to further compete with those established rivals from Japan, Germany, Sweden and the United States," Sun said.