Shared bikes perfect example of win-win mode of transport
Share - WeChat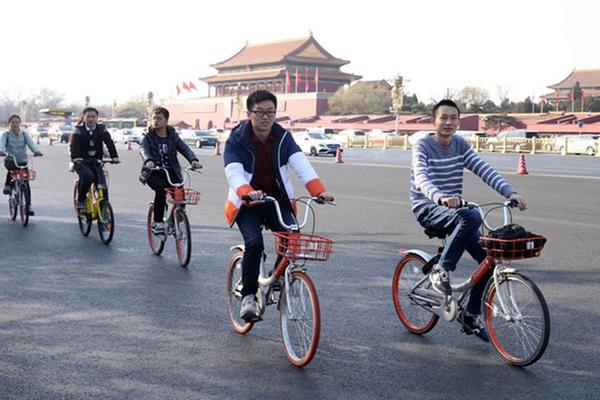 People ride shared bikes along the Chang'an Avenue of Beijing on March 10, 2017. Beijing claims to have over 200,000 shared bikes. [Photo/People's Daily Online]
China used to be called the "Kingdom of Bicycles" in the 1980s because bikes were the most popular mode of transport for Chinese people at the time. Thanks to the fast development of infrastructure over the years, cars, buses and the metro have become the preferred mode of transport for most Chinese in cities today.
But now a new bicycle wave is rising in China thanks to the increasing popularity of mobile phone app-based bike-sharing services. The bike wave is not only creating an environment-friendly way of commuting in cities, but also highlighted the combined role of technology, innovation and market forces in better allocating resources and reducing pollution.
Official data show that in the 1980s, more than 60 percent of Beijing residents rode bicycles to work. By 2000, their percentage had fallen to 40. And in 2015, only 10 percent of Beijing residents rode bikes to work.
The stupendous increase in the number of cars and drastic decline in bike numbers in the past years have created serious problems such as massive traffic jams and severe air pollution in major Chinese cities.
To reduce traffic pressure and prevent further environmental damage, many cities' authorities have urged the local people to reduce the use of cars and ride bikes instead. In Beijing, for example, the authorities have announced that till November 2018 people buying bikes will get a 10 percent subsidy-to a maximum of 800 yuan ($116)-on the retail price. The authorities are also taking measures to raise the percentage of Beijing residents using bikes to 18 by 2020.
The number of people using bikes for commuting to and from work had been on the decline for many years before bike-sharing service companies entered the market. Such companies first made a splash early last year; today there are about 30 startups in the market.
In fact, a government agency is now offering bike-sharing services based on chip-embedded traffic cards. But it has failed to catch up despite making cycling easier, because people have to take the bikes from and return them to designated docks.
The services offered by private startups, on the other hand, are based on GPS-supported mobile phone apps that help position the vehicles no matter where they are parked. Moreover, their charges are low-between 0.5 and 1 yuan for 30 minutes-and users only need to scan the two-dimensional code on the bike with their smartphones to use them.
Given their convenience and low charges, the bike-sharing services have been a hit with residents in China's major cities. According to BigData-Research, a domestic mobile data analysis company, shared bike uses in China's bike-sharing market jumped to nearly 19 million in 2016 from 2.45 million in 2015, and could surge to 50 million by the end of this year.
The booming bike-sharing services have also bailed a lot of bicycle-making companies out of financial trouble as orders for new bikes have increased rapidly. This means there was always a demand for bicycles, but since policymakers and manufacturers were bound by the traditional way of thinking, they could not find the proper way to meet that demand. The use of internet-related technologies has changed that.
By adopting internet-based services, the bike-sharing startups have "killed many birds with one stone": Although they may make profits only in the future, they have met the public's demand for bikes, helped the government reduce pollution, and saved taxpayers' money (bike-sharing companies are financed by venture capitalists, not government subsidies).
The bike-sharing services also testify to the value of China's Internet Plus initiative. By combining internet technologies and traditional industries, policymakers and industry players can join hands to raise the efficiency of resource allocation and usher in sustainable and eco-friendly business models-something that would not have been possible in the pre-internet era.
The author is a senior writer with China Daily.
xinzhiming@chinadaily.com.cn
Most Viewed in 24 Hours
China Views