An Exclusive Interview with Dan Ben-Canaan, an author and former journalist with major global newspapers, now Professor of Research and Writing Methodology with the School of Western Studies at Heilongjiang University in Harbin, Columnist for the Global Times, and former Senior Editor of the English News at Heilongjiang Television Broadcasting Center. His new book The Kaspe File: A Case Study of Harbin as an Intersection of Cultural and Ethnical Communities in Conflict 1932-1945 was published recently in both English and Chinese. He first came to China in 1984 and moved to Harbin in 2002.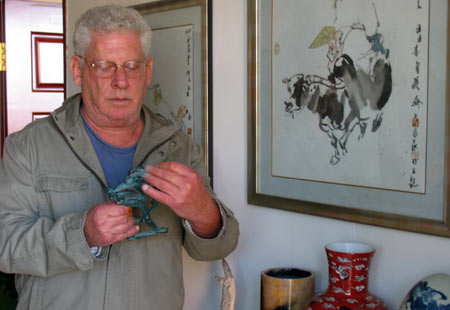 When Dan Ben-Canaan first arrived in China in 1984, most people here had not seen a foreigner before. The changes since then, he remembered, have been remarkable.
"Wherever we went, people showed great interest about us, as if we were creatures from another planet," he recalled. "They would follow you, touch you and smell you. I remember one of our ladies who had red curly hair, and people around gathered around and touched her hair, as if they had never seen such a woman before."
An Israeli journalist who had written for major newspapers, Ben-Canaan was visiting Beijing, Shanghai and Guilin as a part of a delegation of Israeli journalists. It was 1984 then.
Beijing was made up of mostly small lanes and hutongs, except for old government buildings, and there was very little development going on he remembered.
"You were never able to find a telephone booth on the street", Ben-Canaan said. "I remember a block I passed by, where I found there was only one telephone for the residents in the area: a quite long cable was extended to the street, and many people waited in lines."
Perhaps unsurprisingly then, before 1980s, most western media largely ignored China, he said. But Ben-Canaan's trip was part of earliest western media exchanges with China. It had been arranged after a conference in Paris in 1982, where he met a group of Chinese journalists for the first time.
"Most of them wore what we called Mao Zedong jackets," he said, referring to a plain, shirt-like jacket, usually blue or gray, with pockets and a high collar that was common in China from the 1950s to the late 1980s. The Chinese reporters struck him as "smart, simple, modest, and seemingly naive," he said.
The Chinese delegation leader, Ben-Canaan described as "a typical Chinese intellectual: confident, learned, and quite enlightened. He was eager to know how western media presented the news, how we print the newspapers, and what the western readers are interested in."
"Whenever I asked him about what China was like then, he would always say, 'come and see, come and see'."
After his first trip, Ben-Canaan returned again and again. By 1994, he observed, the country had already changed dramatically.
Many modern style high-rises were being built, foreigners were staying in the country's big hotels, and the streets were full of businesses, he remembered.
That year, Ben-Canaan also visited Shanghai, where even more modern skyscrapers and overpasses were under construction. Ben-Canaan remembered taking a pair of photos in the city to show the change.
"I found a quite old apartment building, where many washed clothes were hung along its long and narrow balcony, because there was not enough room in their apartments. While just two blocks away from there, a modern high-rise was under construction. I took a photo of each building and published them later, titled 'The Old and the New,'" Ben-Canaan said.
In 2002, Ben-Canaan moved to Harbin to teach at Heilongjiang University, and he later became a Senior Editor of the English News program at the Heilongjiang TV Station. Over the course of his time in China, Ben-Canaan said the Chinese media has made noticeable progress. It now pays more attention to social issues and people's needs, and has a more international outlook, he said. Ordinary people are now able to see NBA and related stories on CCTV 5, for instance.
"After 60 years of development, China is now in a globally leading position," he said."It's development is so fast, and sometimes I am not able to keep pace with it."