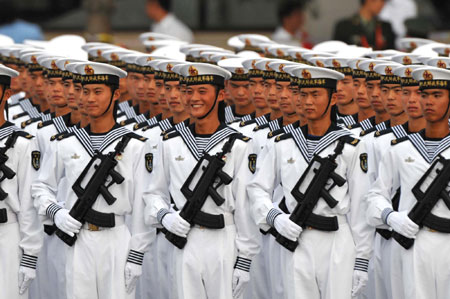 Troops get ready ahead of a grand parade to celebrate the 60th anniversary of the founding of the People's Republic of China, at the Tian'anmen Square in Beijing, October 1, 2009. [Xinhua]
ISLAMABAD: Overseas Chinese in the Pakistani capital lauded Thursday the grand National Day parade in Beijing in celebration of the 60th anniversary of the founding of the People's Republic of China.
After watching the live broadcast of the rally in the Tiananmen Square, Li Chong, a college student studying the Arabic language in Islamabad, told Xinhua that he was so proud and excited.
"Whenever I take a taxi and tell the driver that I am a Chinese, they will give me the thumbs-up and tell me that China is great and the Chinese people are nice," Li said.
Li was one of the 200 overseas Chinese students from the International Islamic University who came in the early morning to the Chinese embassy to watch the grand parade.
Full Coverage:


 60th Anniversary of PRC
Related readings:


 Weapons and equipment are displayed in parade


 Nuclear-capable intercontinental missiles bring climax to parade


 Civilian parade on Tian'anmen Square


 Foreigners take part in China's National Day parade
The students said they wanted to share their excitement with their families in China over phone and share their pride with their Pakistani friends in Islamabad.
"A stronger China gives us stronger support," said Qian Li, the CEO of CMPak, a China Mobile company in Pakistan.
More than 10,000 overseas Chinese are now working or studying in Pakistan, according to Luo Zhaohui, the Chinese ambassador to Pakistan.
Pakistani President Asif Ali Zardari and Prime Minister Syed Yousaf Raza Gilani will hold a reception on Saturday in the president's house in Islamabad to mark the new China's 60th birthday.