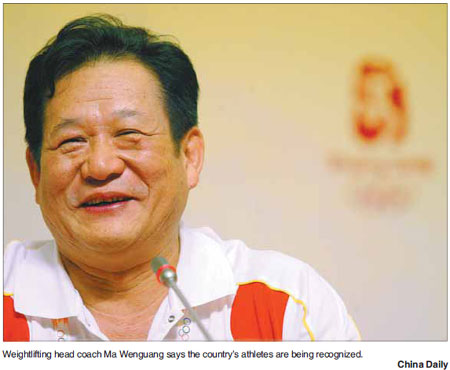 For Ma Wenguang, one of the nation's most successful weightlifting coaches, this year's ongoing National Games proves that the biggest transformation in sport in China has been the brighter spotlight on athletes.
Fans were shouting the names of many of the athletes at the 11th annual sports event in Shandong, rooting them on and heaping praise for their efforts, the 57-year-old says, despite the fact that many had never competed in the Olympic Games.
"Athletes are now being recognized, which is more important to any athlete than an Olympic medal," the veteran coach says. "It is time for athletes to take center stage."
Today, select athletes are portrayed as role models. Many are media darlings and some have major endorsements from leading companies. They are now able to make their own choices in terms of training and what events they will compete in. Fame, once a foreign concept, is a reality for many athletes.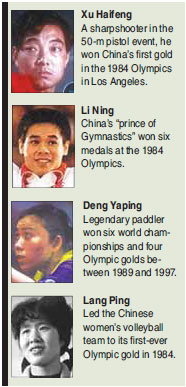 "Sportspersons have hit big time," explains China's weightlifting head coach, who is a passionate observer and participant in the development of sport in China. "They can be remembered in a certain sport as long as they try hard."
But it wasn't always such a beneficial environment for athletes. The State-run sports system used to overlook the needs of most athletes. Ma recalled that in the early era of sport in New China, athletes were training and competing to carry out missions issued by "superiors". But no one knew who these superiors were, he explains.
"But finally, Chinese athletes have careers," he says.
Ma points out the State-run system's evolution. He says individualism, professionalism and commercial element are among the many new concepts that the State has been brought into all sports.
Ma is an example of how a Chinese athlete can achieve fame without Olympic glory. A 16-year-old when he began his athletic career in 1972, Ma made it onto China's 225-person delegation to the 1984 Olympic Games in Los Angeles at the age of 27. But he failed to net a medal in the men's middle-heavyweight competition as hip injuries held him back.
"I had big ambitions, but I just could not put in the effort. I regret that my injuries came at the worst time," Ma recalled.
Still, compared to athletes who train in more advanced facilities, Ma ranks as one of the top weightlifting athletes in China. He has won 178 gold medals, broken 18 Asian records and netted 56 national records in 16 years. He retired as an athlete after the sixth National Games in Guangzhou in 1987.
He has also achieved success as a coach. His weightlifters made history by hauling in eight gold medals and a silver medal in nine competitions at last summer's Beijing Olympics. To emphasize how important it is for them live a full life, he then told his team: "This is the sweet burden and you have to balance your careers among training, competitions, contracts and families."
Ma says it is more important that each athlete he trains to have a fruitful sports career and not to just win an Olympic medal.
"Winning an Olympic medal for China is a luxury and a gift of the heavens; not every athlete will have the opportunity. But every Chinese athlete should try their best and enjoy their short but life-changing sports careers and make themselves remembered by others," he says.
Even he hopes to be remembered, if not for his achievements, then for his once-tremendous appetite.
"I should be remembered by many, even by the notorious fact that I ate a lot as a young athlete," Ma jokes. "I wish all of the athletes become a success. Athletes are all unique on their way from teenage talents to rising stars, to experienced veterans, and finally, to retired sportsmen. Every athlete should taste a career full of ups and downs in their own way."
He says that his most important principle to protect the love for sports in the heart of every athlete.
Time line
1932
China attends the Olympics for the first time with sprinter Liu Changchun as the only Chinese athlete at the 1932 Los Angeles Olympic Games.
1952
The People's Republic of China sends its first delegation of 40 coaches and athletes to the Olympics. Swimmer Wu Chuanyu is the nation's first athlete to compete in the Games.
1956
Weightlifter Chen Jingkai becomes the first Chinese athlete to break a world record.
1972
The nation's table tennis team debuts in the United States. Nine years later, the team sweeps the Table Tennis World Championships with seven titles.
1984
Sharpshooter Xu Haifeng is the first Chinese athlete to win an Olympic gold medal. Chinese athletes win 15 gold medals, 8 silvers and 9 bronzes.
1993
Beijing loses bid to host the 1996 Olympic Games.
2001
China celebrates Beijing's winning bid to host the 2008 Olympic Games; the men's soccer team enters the World Cup finals for the first time.
2008
Beijing holds the 29th Olympiad, which IOC Jacques Rogge describes as "exceptional".