When I first received news of my work attachment to China Daily for last year's Beijing Olympics, I thought it was a dream come true.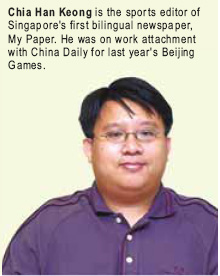 For a sports journalist, to cover any Olympic event is surely a memorable milestone of his career. Furthermore, as a Singaporean of Chinese descent, I was eager to see first-hand how a proud nation like China can manage an event of global magnitude.
As it turned out, it was a jaw-dropping experience that filled me with plenty of joyful memories.
From the spectacular Opening Ceremony to the dazzling end, from the marvelous monuments of the Bird's Nest Stadium and the Water Cube Complex to the record-breaking efforts of Michael Phelps and Usain Bolt - the Beijing Games was surely a milestone for the entire world.
But the memories that I treasured most must surely be the wondrous smiles on every Beijing citizen's face as they welcome the world to their ancient city.
I once sat in a taxi to Wangfujing Street and, upon discovering that I'm a Singaporean, the driver proceeded to give a 10-minute analysis of my country's top table tennis player, Beijing-born Li Jiawei.
It's this enthusiasm that I will remember most of Beijing during the Games. When even 70-year-old grandmothers signed up as volunteers, the Games spirit was well and truly strong within China's capital city.
Oh yes, my tiny nation also made its mark, winning a table tennis team silver medal - the country's first Olympic medal in 48 years.
Memorable, momentous in every way - that's the Beijing Olympics for me.
Chia Han Keong is the sports editor of Singapore's first bilingual newspaper, My Paper. He was on work attachment with China Daily for last year's Beijing Games.