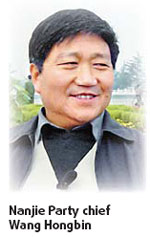 As the leading village in collective farming and rural industrialization, Nanjie has revived an ideological debate. It has invited criticism, too.
Wang Hongbin, Nanjie's Party chief, considers the October document a "panacea" for problems of villages like Nanjie. The Communist Party of China (CPC) Central Committee issued a policy document last month that allows transfer of the land-use rights among farmers.
Wang, who was a delegate to the plenary session of the CPC Central Committee last month, says: "The fifth part of the document stresses that eight types of rural public services have to be improved, but entrepreneurs and the market economy can't be relied on to do any of them. After all, private bosses haven't done much for rural areas. That means we ought to develop the collective economy, which is the basis for solving the sannong problems." Sannong stands for agriculture, rural areas and farmers.
"The Nanjie model may not apply to all villages, and I hope other villages develop their own methods to suit their concrete situations and conform to the policy document because the document's aim is to build a new socialist countryside."
He believes "democratic centralism is the best form of democracy" but some mainstream scholars and the media argue otherwise.
Nanjie's cradle-to-grave welfare system is based on collective capital, used to attract migrant workers, who outnumbered the original residents by 3 to 1 in the late 1990s. A rise in their benefits meant a heavier burden for the village. To sustain its goal of distributing goods and services according to the villagers' needs, the collective sought bank loans, most of which came from the Agricultural Bank of China. The loans, according to the banks, were the backbone of Nanjie's social structure.
But when the market crashed in 2004, the village's dominating food industry failed, too. Nanjie entered the blacklist of banks after failing to repay the loans that year.
Nanjie's 1.7-billion-yuan ($249 million) debt and closure of bank loan channels forced it to enlist on the Hong Kong Stock Exchange after 12 village decision-makers were registered as the joint-stock company's primary stockholders.
On Feb 26, 2008, a report in the Southern Metropolis said: "Its secretive privatization three years ago meant that the 30-year-old 'myth' might have come to an end." That sparked an extensive debate on- and offline. Prominent rural scholar Dang Guoying, a vocal advocate of privatization of rural resources, accused Wang of being "an extreme leadership- and control-freak". He says: "If thousands of Wang Hongbins continue to prosper in China, it will darken China's future. I neither hope nor believe that is going to be the case." The Southern Metropolis backed Dang, with columnist Lian Yue writing: "It's only after the money support faded that we found Nanjie had no underwear on."
News of Nanjie's "bankruptcy" flooded the media, with many netizens questioning the reliability of the reports and articles and saying that the reaction of some scholars was "inappropriate".
Intellectuals actually working for rural affairs and farmers' self-governance tried to present a more balanced view. Wen Tiejun, dean of Renmin University's School of Agricultural Economics and Rural Development, says: "The Nanjie collective mode of economy was an incidental choice as rural China began its industrialization. There is no way to determine the inevitability of this mode. Industrialization necessitates scaled concentration of resources in the form of capital. Nanjie did so by collectivizing community resources, using Mao Zedong Thought as a tool for mobilization."
Scholar and former rural cadre Li Changping, who coined the term "sannong problems", says: "Some people ask why Nanjie isn't dead Nanjie doesn't have a very good system, but it is well developed because its relations of production are superior to the household responsibility system," Li says.
But surprisingly, Nanjie has remained silent amid the fierce debates and growing controversy. In a written statement released to - but rarely seen in - the media, Wang said the enlisting of Nanjie in 2004 was just legal compliance, and had no effect on its management and distribution structure. None of the 12 shareholders, he said, has got even a cent worth of shares. It's true Nanjie has a 1.7-billion-yuan debt, but it's also true it has assets of 900 million yuan. So it is "nowhere near" bankruptcy.
"The reality is that Nanjie is experiencing a turnaround when the world is grappling with the financial crisis We're recovering through our own efforts. In the face of similar economic and ideological tests, private bosses would have packed and ran away, leaving behind hungry employees."
The villagers - residents and migrants both - agree. Cheng Huajie, chief of Nanjie Kindergarten, says: "Life here is like a pair of shoes. You'd never know it's comfortable or not unless you put it on." The kindergarten is the largest in all of Luohe city, and about 720 of the 870 enrolled children are from outside Nanjie because it's a provincial model in Henan.
"I take great pride in my job. I graduated from Zhengzhou (Henan's provincial capital) and decided to settle down here because it's got this enormous confidence," she says. "No family locks its doors. I don't either This place (Nanjie) is under the sun. There's not much darkness."
Chao Weiyong, director of Nanjie's TV station, prefers not to hit back against media distortions: "We don't care much about the smearing campaign. Yes, they've destroyed our image. But we've managed to come this far. The villagers know what's true. It'd be stupid to get into a fight with these people. It's not worth it Nanjie does have some problems. But show me one place that doesn't?"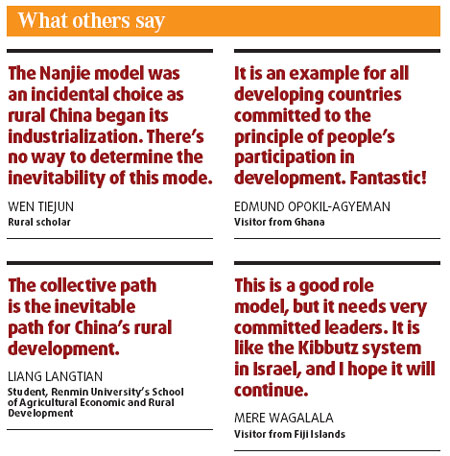 (China Daily 11/18/2008 page6)