BEIJING: Vice Premier Li Keqiang said on Tuesday China would continue to pursue a low birth rate while actively coping with problems such as sex ratio imbalance and the aging of population.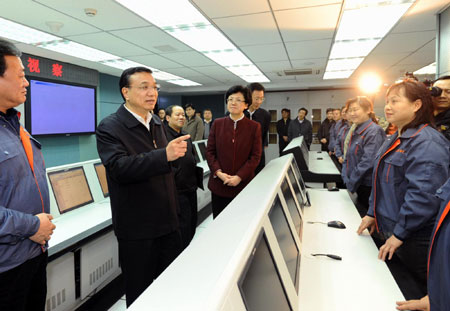 Chinese Vice Premier Li Keqiang visits a laboratory of China Population Devolpment Research Center in Beijing, China, Jan. 19, 2010. Li Keqiang made an inspection tour to the population and family planning commission and affiliated research institutions on Tuesday. [Xinhua] 
Li made the remarks when inspecting the National Population and Family Planning Commission.
China still faced pressure from population growth and "new situations" had emerged in population structure as its industrialization and urbanization continued to proceed, Li said.
Efforts were needed to achieve reasonable distribution and orderly flow of population, he said, adding population and family planning authorities should put people first and better serve people at grassroots communities.
He asked population and family planning authorities to provide better services for urban and rural residents, especially farmers and floating population.
Official figures show the country's birth rate went down from more than 1.8 percent in 1978 to around 1.2 percent in 2007.
China's family-planning policy was introduced in the 1970s to rein in its surging population by encouraging late marriages and late childbearing and limiting most urban couples to one child and most rural couples to two children.
It's estimated that without the policy, the country's population would be 400 million more than the current 1.3 billion people, according to the National Population and Family Planning Commission.