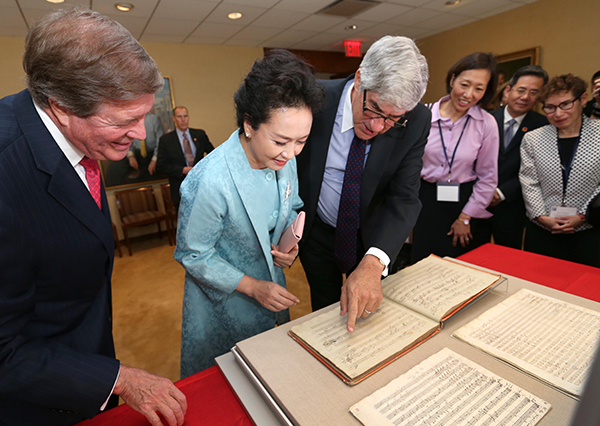 First lady Peng Liyuan views manuscripts by Beethoven and Mozart during her visit to the Juilliard School in New York City on Monday. MA ZHANCHENG/XINHUA
First lady Peng Liyuan appealed on Monday for greater efforts to promote cultural and people-to-people exchanges between China and the United States.
She made the call while visiting two leading art and cultural institutions in the US.
Touring Lincoln Center for the Performing Arts, Peng said that in recent years the center had played an active role in promoting Sino-US cultural exchanges and enhancing friendship between the two peoples.
A famed singer with a successful career in China, Peng was invited to perform at Lincoln Center in 2005.
She said, "My husband's successful state visit to the United States injects new vitality into people-to-people exchanges between our two nations."
She added that she hoped the cultural exchanges between China and the United States would be "more splendid" and make a greater contribution to deepening the relationship between the two peoples.
At the Juilliard School, a leading performing arts conservatory at Lincoln Center Plaza, Peng was welcomed with five music, dance and drama performances, giving her what Juilliard President Joseph Polisi called "a glimpse" of the Juilliard education.
The performances ended with soprano Liv Redpath singing the Yunnan folk song Xiao He Liu Shui (Flowing River). Redpath practiced for weeks with help from her Chinese peer Jia Fan.
She also came across Peng's recording of the song before knowing she would perform it for her. The first lady cheered Redpath and coached her on a few lines of the song while singing the words.
Polisi said of Peng after the visit: "She is an artist. You can see how involved she was."
They had no interpreter but understood each other, he said, adding, "As soon as you don't need a translator, a lot of walls come down."
Redpath said: "It was so nice to relate to another artist. She knows what it's like to perform, so she's more compassionate and understanding."
After the performances, Polisi announced that the Juilliard School would open its first campus outside New York in Tianjin.
Peng and Polisi unveiled the name of the new campus-The Tianjin Juilliard School.
Xinhua contributed to this story.