On Jan 9 at 7 pm, a momentous broadcast debuted on Shanghai East Classical 94.7 FM - a concert by the New York Philharmonic under the direction of Alan Gilbert, the orchestra's conductor and music director.
The New York Philharmonic alternates each week throughout 2015 with the San Francisco Symphony under its music director, Michael Tilson Thomas, and the Los Angeles Philharmonic, conducted by Gustavo Dudamel.
It is the beginning of a weekly series of broadcasts by American orchestras on Shanghai East Classical 94.7 FM. While many American orchestras have traveled to China to perform, this is the first time any of them have been heard on a Chinese radio station on a regular basis. The series is sponsored by a grant from Abbott.
It took WFMT Radio Network, a non-profit headquartered in Chicago, more than a year to work out the details for the historic cultural exchange - it was time and effort well spent because the opportunity to have performances by some of the major American performing arts organizations heard in China was a significant step in establishing cultural ties and understanding between the US and China.
The program, which is broadcast every Friday evening, has been so well received that the WFMT Radio Network and Shanghai Classical 94.7 FM are set to create a second two-hour weekly program on Thursday evenings, which will add the best known performing organizations in New York City to the broadcasts in China.
Having American ensembles "exported" to China is a wonderful way for classical music lovers in the country to hear some of the greatest-performing ensembles in the US. But what about "importing" Chinese culture to America and other parts of the world?
With additional sponsorship from Abbott, producers from the WFMT Radio Network went to China in May to record interviews, sounds and features to accompany an eight-part series from the 32nd Shanghai Spring International Music Festival.
It is one of the most important music festivals in China and features a wide range of Chinese national music performed on traditional and modern instruments as well as vocal music of all kinds. The festival also featured Western ensembles from Russia, Germany and elsewhere, and their programs also will be included in the series.
This unprecedented series will be distributed by the WFMT Radio Network to radio stations throughout the US and Europe beginning in December. It marks the first time music from a Chinese festival will be heard so extensively in the West.
And that is just Shanghai.

The WFMT Radio Network's "flagship" program is a daily series of classical "music appreciation" programs hosted by American conductor/composer, Bill McGlaughlin. Each week, McGlaughlin takes a single theme in classical music and devotes five hours to explaining the theme, accompanied with a multitude of music selections by the best known composers, conductors, and performing organizations.
The series had its debut in China in Beijing on China Radio International (CRI) in January 2015. The program is heard twice a week on CRI, and it will soon be heard on Shanghai East Classical 94.7 FM in Chinese soon.
We are indebted to Zhao Weiping, consul general of China in Chicago; and Cultural Consul Wang Yun for their ongoing support of these programs; to Jennifer Hou Kwong, a Chicago-based consultant, for her pioneering work in helping bring about this cultural exchange; and to our partners at Shanghai East Classical 94.7 FM, the Shanghai Conservatory of Music, and CRI for their partnership in making this unique cultural exchange possible.
We all know that commercial trade and other economic endeavors are essential if China and the US are to continue to develop a close and healthy relationship. We also know that cultural exchanges are crucial in building understanding and friendship among the peoples in the two countries.
Classical music exchanges are a significant part, and the WFMT Radio Network, with the help of Abbott, is delighted to take a leading role fostering cultural understanding and bridging cultural differences with a universal language.
The author is the general manager of the WFMT Radio Network, a non-profit organization located in Chicago.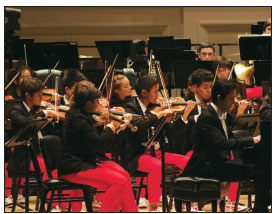 The National Youth Orchestra of the United States of America (NYOUSA), featuring 114 young musicians (ages 16-19) from across the states, perform during a warm-up show at Carnegie Hall in New York on July 11. Hong Xiao / For China Daily
(China Daily 09/28/2015 page11)