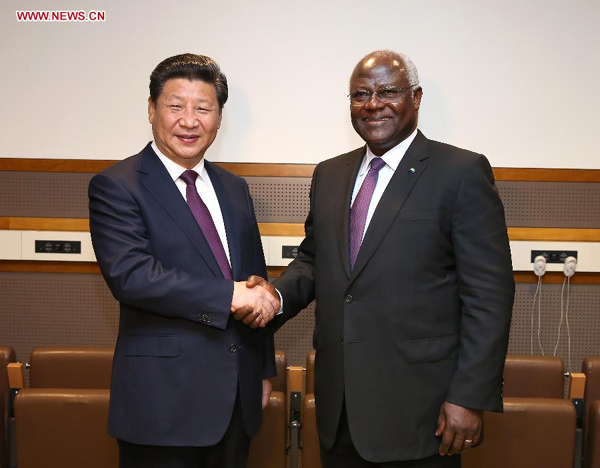 Chinese President Xi Jinping (L) meets with Sierra Leone's President Ernest Bai Koroma in New York, the United States, Sept 27, 2015. [Photo/Xinhua]
NEW YORK - China is drawing up a plan to help Sierra Leone and two other Ebola-inflicted African countries with economic and social reconstruction and mutually beneficial cooperation, Chinese President Xi Jinping said here Sunday.
During his meeting with Sierra Leone President Ernest Bai Koroma in New York, Xi said relations between their two countries are a real testimony to the phrase "a friend in need is a friend indeed."
After the Ebola epidemic broke out in Sierra Leone last year, China immediately responded to President Koroma's call, sending emergency medical support and playing a leading and exemplary role for the international community, the president recalled.
Xi said China will enhance medical and healthcare cooperation with Sierra Leone by supporting the country in establishing and improving its public health prevention and control system, setting up a research and treatment center on West Africa tropical pathogens as soon as possible, sending more medical workers to the country and helping it strengthen capacity building.
China will also deepen its reciprocal cooperation with Sierra Leone, supporting the country in establishing an independent industry system for sustainable development, expanding technological training and speeding up infrastructure construction, said the president.
In addition, China will broaden the cooperation with Sierra Leone in agriculture and fishery, support the country in establishing and improving a food security system, carry out mutually beneficial cooperation in natural rubber, rice planting, grain storage, marine fishing and processing of agricultural and fishery products, and help the country increase agricultural income and employment, he said.
Xi also expressed the wish that as 2016 marks the 45th anniversary of the two countries' diplomatic ties, China is willing to further enhance mutual political trust with Sierra Leone and expand reciprocal cooperation in an all-round way, thus bringing more benefits to the peoples of the two countries.
The Chinese president said that the China-Africa Cooperation Forum Summit will be held in early December in South Africa, which is of great significance as it will be the first China-Africa summit held in the African continent.
China welcomes President Koroma to attend the summit and play a positive role in the successful convening of the summit, Xi said.
China is also willing to strengthen coordination with Sierra Leone on the post-2015 development agenda, climate change, UN Security Council reform and other international and regional issues, in a bid to safeguard the common interests of the developing countries, Xi added.
For his part, Koroma echoed Xi's comment on bilateral relations, saying that the Sierra Leone government and people are deeply grateful to China's immediate support and assistance when the country was in a tough battle against the Ebola epidemic.
Sierra Leone will continue to safeguard and develop its relations with China, enhance cooperation with China in such areas as development, healthcare and infrastructure, and carry out closer coordination in multilateral affairs, Koroma said.
Xi is in New York to attend a series of summits marking the 70th anniversary of the founding of the United Nations.