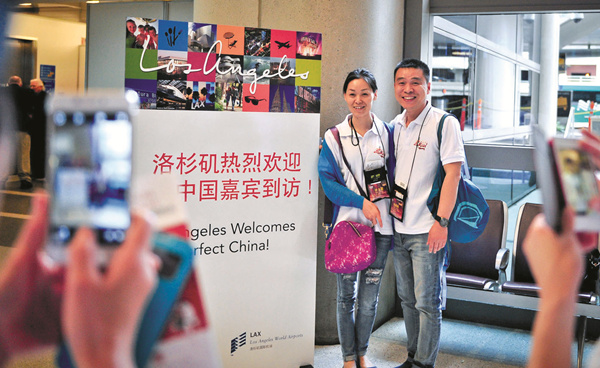 Two Chinese tourists pose at the Los Angeles airport. The city tops the list of US destinations most visited by Chinese tourists. [Photo/Xinhua]
Visa changes lead to boost in Chinese, American travelers exploring each other's countries, Amy He in New York reports.
Since the announcement that the US and China had extended visitor visas from a year to 10 years, more Americans and Chinese are taking advantage of tourism opportunities.
Brand USA, the official travel promotion agency, has a goal of attracting 100 million international visitors by 2021, and China figures prominently in the marketing strategy.
"We have stepped up our commitment to China, including opening a fourth office in Chengdu," said CEO Christopher Thompson. "We've had more and more interest from our partners."
Brand USA hosted a travel summit with the China National Tourism Administration from Sept. 9 to 11 to discuss bilateral trade issues and how to support more tourists visiting each other's countries.
Last year, Chinese were the sixth-largest group of travelers visiting the US, up 21 percent on the year before, according to the US National Travel and Tourism Office. "Five years ago, China wasn't even a top 10 origin market," the office said. Brand USA has forecast China to be the No. 1 market by 2018.
Figures show that Chinese tourists currently account for 2.9 percent of all international visitors to the US, spending $23.8 billion and contributing $65 million a day to the US economy.
"We see absolutely a continuing explosion of Chinese visiting the US," said Evan Saunders, CEO and co-founder of Attract China, a Boston-based tourism company that works with businesses to promote deals to Chinese tourists. "This is not slowing down at all, and all the businesses we work with, including the hotels, continue to see this growth, both with recurrent bookings and future bookings much later this year."
New York City, the second-most popular destination for Chinese tourists behind Los Angeles, saw a record number of travelers from China last year. A spokesman with the city's tourism organization, NYC & Co., said it is "committed to China for the long term" and that the market is "critically important for the long haul."
The city received 809,000 visitors from China in 2014 and expects about 932,000 this year, a spokesman said. "New York City is more tourism ready for China than it's ever been. Our businesses really understand the importance of this market. Our message is that we really want to encourage Chinese visitors to not only visit New York City on their next trip, but to actually stay in the city."
California, which receives 46.2 percent of all Chinese tourists to the US, received 1.02 million travelers last year who spent $2.5 billion in the state.
While Chinese outbound tourism to US has hit an all-time high, the market for American travelers to China is smaller.
By the end of June, 1.04 million Americans had visited China this year, making them the third-largest source country for foreign visitors, according to the China National Tourism Administration. Last year, 2.1 million tourists from the US traveled to China, up 0.4 percent on 2013.
"China is such a vast country, not only in geography, but obviously in population," said Thompson at Brand USA, who added that many of the travel opportunities available in China are unknown in the US
Daniel Pliske, a sales executive for Access China Tours, based in Colorado, said most of his company's customers are Americans in their 40s and older, with mid to high incomes, who are looking to travel in China for the first time.
For them, China is most likely not their first international destination. "Most Americans — once they have traveled to Europe, done a Caribbean cruise and seen most of their own country — are kind of ready to go to Asia," he said.
Access China Tours offers predominantly luxury and private tours, most lasting on average two weeks, across four destinations. Trips cost between $4,000 and $5,000, excluding airfare and visa costs.
"I believe China's becoming more popular," Pliske said. "If you look at direct air routes to Asia, and China in particular, they're quickly increasing, and it's more on people's radars," he said. "From the West Coast, it almost takes as long to fly to East Asia as it does to fly to Europe."
Claudia Haltom, a Memphis lawyer, visited China for the first time in July with her husband and two children. She said she went into the trip "wide open" to experiencing different cultures and was impressed by what she found.
"My lack of understanding of Chinese history is what I found so fascinating," she said. "I didn't realize the Chinese had been dealing in multiples of a million people for 3,000 years. The volume of people and how they're able to cope with and create a society was just really impressive. It was amazing."
Haltom said her son is now studying for a master's in Chinese literature at Southeast University in Nanjing and had previously studied at the Confucius Institute.