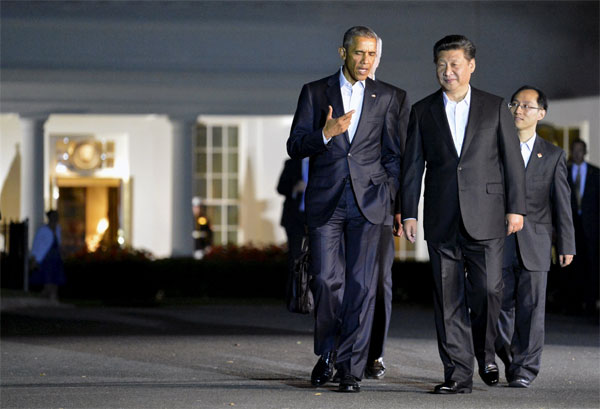 President Xi Jinping chats with US President Barack Obama as they walk from the West Wing of the White House to a private dinner across the street at Blair House, in Washington, on Thursday. Mike Theiler / Reuters
The development of China-US relations in recent years has been marked by important private meetings between the heads of both countries. Analysts say such encounters help improve the relationship.
One instance was in June 2013, when President Xi Jinping, on his way home from a tour of three Latin American countries, paid a visit to the United States. There he met with US President Barack Obama at Sunnylands, California, a retreat used by US and other world leaders.
Amid more formal meetings, Xi and Obama took a stroll on the estate for about 50 minutes, talking unaccompanied by their advisers.
Another such meeting came on the evening of Nov 11, 2014, when Ximet with Obama in Zhongnanhai, when Obama was in Beijing for the Asia-Pacific Economic Cooperation summit.
The two leaders had a one-on-one talk as they walked around Yingtai, an island where royal families in ancient China used to spend the summer.
Xi explained to Obama that Yingtai was built during the Ming Dynasty (1368-1644) and during the Qing Dynasty (1644-1911) served as the emperor's business office and a place to escape the summer heat and host receptions.
The meeting in Yingtai didn't end until after 11 pm due to the prolonged discussion.
Private interactions between the two leaders should not be underestimated, Cheng Li, director of the John L Thornton China Center of the Brookings Institution, told China News Agency.
Frequent encounters such as dining together and discussing matters earnestly help them understand each other's train of thought and the situation in each other's country, thus making it easier to avoid misunderstandings.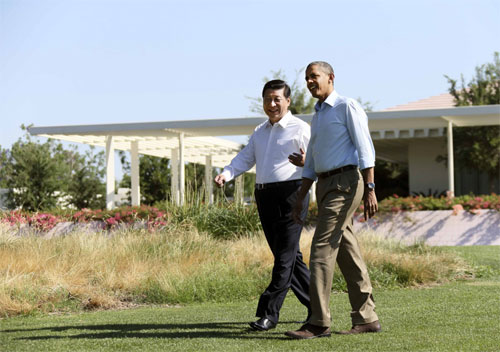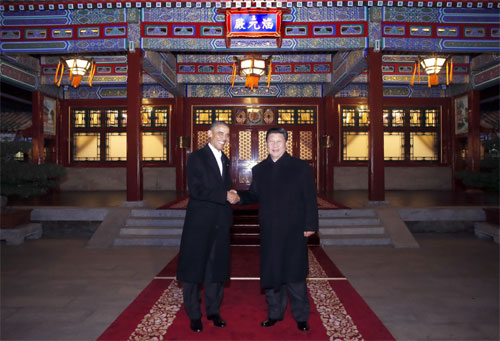 President Xi Jinping and US President Barack Obama met in Sunnylands, California, in 2013, and at Yingtai, Beijing, in 2014. Xinhua