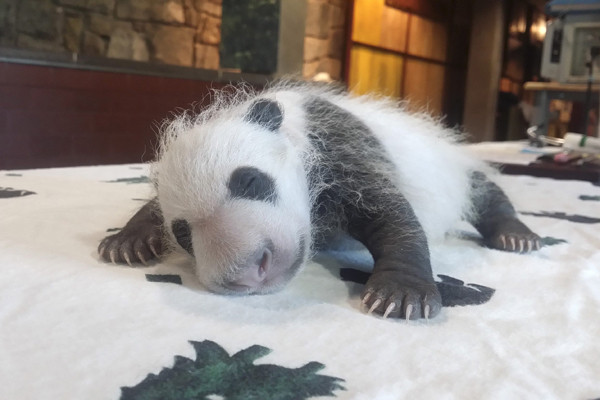 Zookeepers prepare to weigh a Giant Panda Cub at the Smithsonian's National Zoo in Washington in this picture taken September 14, 2015. [Photo/Agencies]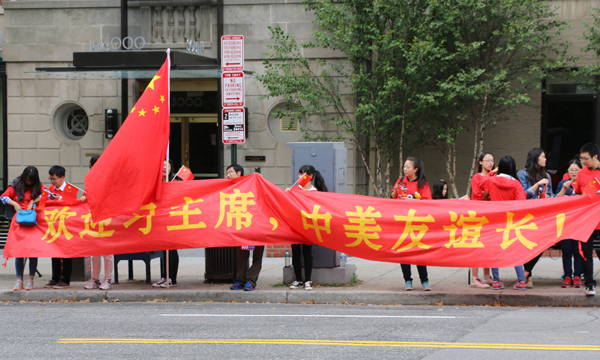 Crowds gather outside the Smithsonian's National Zoo on Friday morning as Peng Liyuan, China's first day, and US First Lady Michelle Obama arrive for a visit of the giant panda pavilion. [Photo/Chen Weihua]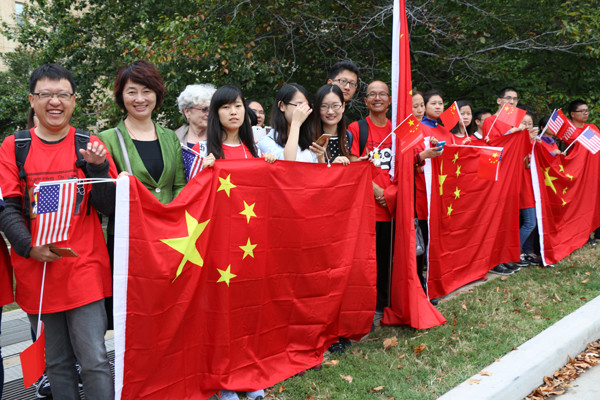 Crowds gather outside the Smithsonian's National Zoo on Friday morning as Peng Liyuan, China's first day, and US First Lady Michelle Obama arrive for a visit of the giant panda pavilion. [Photo/Chen Weihua]  
The National Zoo was the first zoo to house giant panda following Richard Nixon's historic trip to China 1972. A new giant panda cub was born a month ago, triggering huge attention among local giant panda fans.
In celebration of the state visit and as a special honor for the cub, the name 'Bei Bei' was selected by First Lady of the United States, Michelle Obama, and First Lady of China, Peng Liyuan.
Bei Bei means "precious, treasure" in Mandarin and is complementary to his sister's name, Bao Bao. Both first ladies sent their video messsages at a 100-day naming ceremony for giant panda cub Bao Bao, born on August 23, 2013.
Nadine Hathaway, who lives nearby the zoo, was among the welcoming crowds. She said she comes to the zoo often. "I love animals, and love the spirit of Chinese pandas,"
 Hathaway said that people should find way to agree with people from other countries and that's her hope for the state visit of Chinese President Xi Jinping.
 While the motorcade of the two first ladies just went passing the welcoming crowds into the zoo. Hathaway is not disappointed. "You see them in passing, but it's kind of demonstration of goodwill," she said.
 Wang Huiqing, who is doing research at the National Institute of Health on an exchange program, was among the crowds. He said he was very excited about the state visit by Chinese President Xi Jinping and First Lady Peng Liyuan.
"I came here with funding from the Chinese government, so I am very excited about the trip," said Wang, who research is focused on neuroscience.