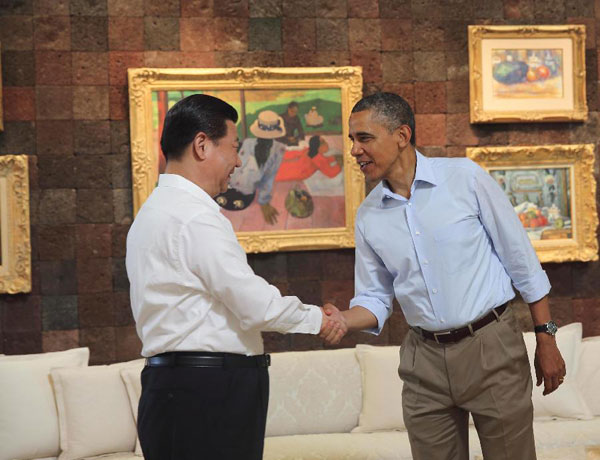 US President Barack Obama (R) welcomes Chinese President Xi Jinping to join a walk before heading into their second meeting, at the Annenberg Retreat, California, the United States, June 8, 2013. Chinese President Xi Jinping and US President Barack Obama held the second meeting here on June 8, 2013 to exchange views on economic ties. [Photo/Xinhua]
US President Barack Obama feels that private dinners with Chinese President Xi Jinping in the past years have been the most constructive engagement between the two leaders, according to Obama's senior advisor.
Ben Rhodes, Obama's deputy national security advisor for strategic communications, said the US president has been able to develop a good relationship with President Xi. "That doesn't mean we agree with everything Xi does, but I think they have been able to have constructive conversations,"Rhodes told a conference call on Xi's state visit on Tuesday afternoon.
Rhodes, who has attended many meetings between the two leaders, described formal meetings as sitting there, going through the long list of agenda and stating each other's position on issue after issue.
He said such bilateral meetings are "necessary and very important," but added that "what has been distinct about their relationship since Sunnylands is far away, the constructive engagement they had had been in their private dinners."
"Both in Sunnylands and in China, President Obama commented afterwards that he felt the most constructive engagement were when they were able to talk for several hours over dinner without a formal agenda and give a vision for where they want to take their country, give a vision for how they think the US and China should operate together in the world, and kind of put aside the talking points and actually get a window into one another's world view, and those world views are very different," Rhodes said.
"And that's part of why I think the conversations are useful and important because it provides the context for all of these issues."
Xi and Obama met in June 2013 for a shirt-sleeve summit in the California desert retreat of Sunnylands and then met last November in Beijing for a private dinner in Yingtai, an imperial palace on an island within Zhongnanhai.
Rhodes said such private dinners give them the ability to step back and offer a perspective of where they are in terms of relationship. While President Obama is able to hear from President Xi about his domestic programs, Obama was also able to share some of his thoughts on domestic programs.
"It doesn't mean they are in perfect agreement. But they have the understanding as where they come from on these issues,"Rhodes said.
He described last November's breakthrough on climate change as a result of the informal talk between the two leaders in Sunnylands and also credited the expanded military-to-military exchanges between the two countries to their private dinner engagement.
Rhodes said that starting with a private dinner with President Xi's state visit this week is very important because there won't be formal agenda to go through a long list.
"They can step back and look at the strategic context, acknowledge the differences and some tensions that are there, but also look for opportunities for the next phase where we can cooperate," Rhodes said.
"So that private dinner would set up a context and will help us make more progress on the agenda in the following day,"he said.