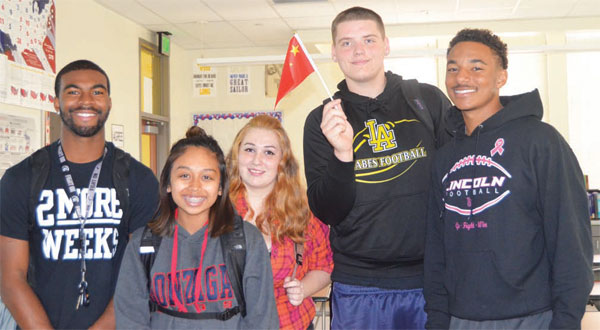 Lincoln High School students (from left) Dionte Simon, Moruot Soeum, Leena Loredo, Kameron Smith and Alvin Johnson are well prepared to welcome President Xi Jinping when he visits the school in Tacoma, Washington, on Wednesday. Photos by Deng Yu / China Daily
At a school with a large minority population, drawings of pandas and Chinese flags and a Chinese song will greet the president on the West Coast start of his state visit
China has fired up the interest of students at Lincoln High School in Tacoma, an industrial port city in the state of Washington, because of a Chinese leader's upcoming visit.
"The Chinese president will come to our school on Wednesday," Kameron Smith, a senior at Lincoln, told China Daily in his classroom while talking with classmates during lunch break. "It's pretty cool. The powerful leader will visit us out of so many schools."
The students may not know that their city has been connected with China since 1993 when Chinese President Xi Jinping visited Tacoma as the then Communist Party chief of Fuzhou, a coastal city in China's Fujian province. In the next year, the two cities established their sister-city relationship.
Twenty-two years later, Xi will set foot in the city again, and Lincoln will be one of his stops during his three-day stay in Seattle, about 40 miles north of Tacoma.
Lincoln is one of the city's most diverse high schools, and more than 13 percent of the students there have some type of Asian heritage.
Located in the quiet south-central section of Tacoma, the school built in 1913 was being spruced up for the president's visit. Workers were repainting the outside doors of the stadium and others were cleaning the red brick walls of the collegiate Gothic-style building.
Inside, drawings of pandas and Chinese flags decorated a billboard outside the auditorium.
In a nearby classroom, Leena Loredo and her classmates had just finished a class on US government and policies. Xi will join them in an advance placement government class, where their teacher, Nate Bowling, was expected to give a lecture on the differences between Chinese and US presidencies.