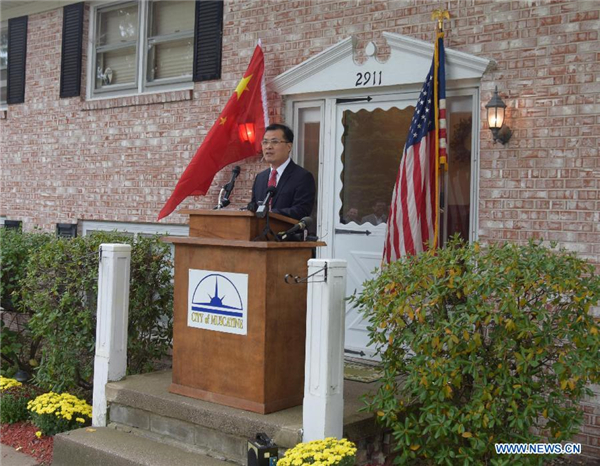 Zhao Weiping, Consul General of China's Chicago Consulate-General, speaks during the opening ceremony of Sino-US Friendship House in Muscatine, Iowa, the United States, Sept 17, 2015. [Photo/Xinhua]
Xi's second visit to Muscatine was in 2012, when Xi was vice president of China. On his return, he gathered with old friends and talked to them about one and a half hours instead of the original schedule of 40 minutes, according to DeWayne Hopkins, mayor of Muscatine, who spoke at the ceremony.
"We were certainly surprised when we heard that he will be the president of China," said Gary Dvochak, the son of the house's original owner.
"The house is symbolic in the two country's friendly relations," said Gary Jr., who is now living in China.
"People-to-people diplomacy are best represented" in establishing the friendship house here in Muscatine, said Robert Kuhn, a China hand and an international corporate strategist, at Thursday's ceremony.
"Xi met with ordinary Americans, especially those are not from big cities, like New York and Washington, and that shows a sense of common humanity, even humility," Kuhn said. "And we like that in our leaders."
According to Kuhn, both Xi's visits to Muscatine "exemplified these people-to-people communication, this kind of public diplomacy which is now crucial to President Xi's total foreign policies for China."