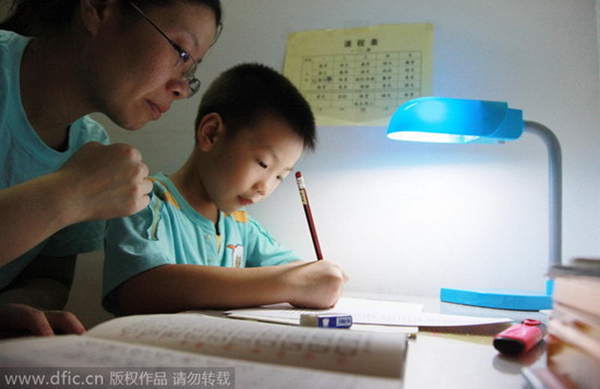 A Chinese mom helps her son with homework in Nanjing, Jiangsu province on Sept 24, 2013.[Photo/IC]
Pinma means "mompetition" in English. Specifically, it means competition among mothers to give their children the best education and help them excel in different fields. The concept of "mompetition" has even traveled overseas and begun playing an important role in children's education in Western countries such as the United States.
Understanding the differences between Chinese and US family education will help the two sides see their respective advantages and use them to make comparisons more meaningful and healthy.
There is no denying that the influence of family education is the most profound on a child's development and could determine how its life will ultimately shape up. However, different from other types of investments, education is not something parents can harvest from as much as they expect. If parents have scant knowledge of the norms of education and are misguided by wrong educational ideas, the more efforts they make to get things right, the more harm they might cause to their children. Hence, a mother's investment in her child's growth could be fruitful only when used with the right strategy.
To gain an advantage in "mompetition", some say Chinese moms have to be versatile. They have to be good not only at household chores, but also at telling stories, teaching mathematics and English grammar, helping their children with compositions, musical instruments and painting, as well as planning travels for their offspring and taking perfect photographs. This should give an idea of the extent to which many Chinese mothers intervene in their children's life; sometimes they even do their children's homework to ensure they out-compete their peers.
In contrast, most American mothers generally desist from meddling in their children's life. More often than not, they just offer their children support or guide them, for example, to work as company interns or volunteers in some poor region. Even when it comes to helping their children, American mothers tend to acquaint them with facts and provide them professional aid and/or advice.
Since most children eventually leave their parents and become independent individuals, parents should create opportunities for their independent growth rather than occupying every corner of their life.