Secretary of State says two major polluters in world can have profound impact together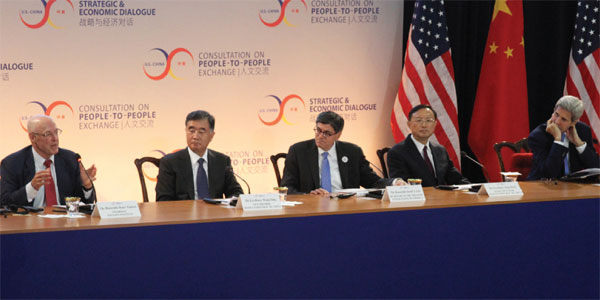 Leaders from China and the US discuss joint efforts to combat climate change in Washington on Tuesday. From left: former US Secretary of Treasury Henry Paulson, who moderated the discussion; Vice-Premier Wang Yang; Treasury Secretary Jacob Lew; State Councilor Yang Jiechi; Secretary of State John Kerry. The discussion was part of events on the opening day of the US-China Strategic and Economic Dialogue. Amy He / China Daily
China and the United States have been working "extremely effectively together" since the two countries' historic joint announcement in 2013 on combating climate change, which presents both countries with great economic opportunities, US Secretary of State John Kerry said on Tuesday.
Commenting at a panel discussion at the 2015 US-China Strategic and Economic Dialogue, Kerry said that the two countries were locked in a "stalemate" on climate change, but since 2013 the US and China have opened up and cooperated, which has had a great impact on other countries.
"Because China and the United States are the world's two largest emitters today, when we make a decision to move on this, it has a profound impact," he said.
US Treasury Secretary Jack Lew, Chinese State Councilor Yang Jiechi and Chinese Vice-Premier Wang Yang participated in the discussion that was moderated by former US Treasury Secretary Henry Paulson.
Yang said that the announcement in November 2013 by presidents Xi Jinping and Barack Obama and "not only promoted our cooperation in tackling climate change, but also promoted our cooperation in green and low-carbon economic growth." At the same time, the announcement "brought a great deal of inspiration to the world," he added.
Obama said in the announcement that the US will reduce its carbon emissions by 26 percent to 28 percent in 2025, compared to levels in 2005. Xi said that China will peak its carbon emissions by 2030, the first time China has agreed to such a level.
Yang said China will continue to save energy and raise efficiency, increasing forest carbon stock, cutting carbon intensity, and focusing efforts on promoting a green economy. China and the US should work more closely on issues of shale gas, nuclear power, carbon capture and sequestration, and green trade, he said.
"We should work together to contribute to the global response to climate change. We need to work with the international community to ensure success at the Paris conference at the end of this year so that it can achieve big results," he said.
Lew and Wang emphasized that the economic implications of delaying action on climate change are significant, and that it's better for both countries to deal with the issues now before they become bigger financial burdens later.
"The cost of delay is very substantial. We have seen increasingly extreme weather, that has costs," Lew said. "We also have seen from studies that for every decade we delay, we increase the cost of dealing with climate change by 40 percent. So the reality is that the economic pressure is real and it's going to get more real as time goes on."