'First lady effect' a possible boon for ZTE
Updated: 2014-03-31 08:10
(China Daily)
Comments
Print
Mail
Large
Medium
Small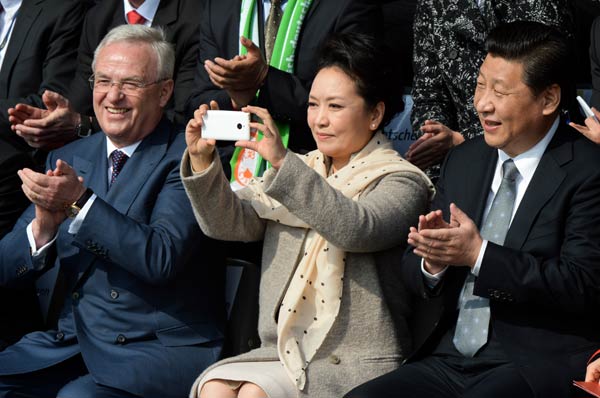 First lady Peng Liyuan takes pictures with the Nubia Z5 Mini handset, manufactured by Chinese cellphone maker ZTE Corp, as she watches a friendly soccer match with her husband, President Xi Jinping, and Martin Winterkorn, CEO of German automaker Volkswagen, in Berlin on Saturday. SOEREN STACHE / AFP VIA DPA
ZTE Corp, the Chinese cellphone maker, may get an unexpected boost in sales thanks to first lady Peng Liyuan.
During President Xi Jinping's ongoing trip through Europe, Peng was spotted taking pictures with the Nubia Z5 Mini handset, one of the latest models by the world's fourth-largest maker of cellphones.
"China Dream starts from 'Made-in-China'," said a post published on ZTE's micro blog after pictures of Peng using the device went viral on the Internet.
Netizens criticized Peng for using an iPhone on a trip to the US last June.
The recent pictures could be a boon to the company only two days after it announced 50 percent growth in shipments this year.
Despite having a bulk of China's mobile phone market share, ZTE has been under pressure to expand its product line, which has mostly been stocked with affordable phones, with more high-end devices.
But ZTE has good reason to feel confident that sales will rise. Peng's fashion choices have driven up sales for various Chinese companies and her popularity at both home and abroad is soaring.
Her choice of outfits during a trip last year to Russia created a nationwide frenzy for domestic apparel brands. After sporting various bags and coats from ready-to-wear line of clothing called Exception de Mixmind from designer Ma Ke, bags and coats from the Guangzhou-based brand sold out on Tmall, a business-to-customer online marketplace in China, just days after the Russia trip.
Xiang Ligang, founder of IT and telecom portal CCTime, said the "first lady" effect has the potential to invigorate domestic brands.
"It's heartening to see Peng Liyuan using the ZTE device. The phone will definitely become a hot item for ladies," he said.
Chen Zhimin, dean of the School of International Relations and Public Affairs at Fudan University in Shanghai, said it helps that Peng exudes an easy grace, a sincerity toward charities and has a confident grasp of conversational English.
"She promotes rural education and campaigns against tuberculosis for the World Health Organization. Her warm, friendly public image is helping to usher in a kind of openness and approachability that are fresh to the world," he said.
During her visit to Germany late last week, Peng said her Chinese dream is that everybody has equal access to first-class education.
"I wish all students around the world, especially girls, could receive as fine an education as you do," Peng said to art and science students in Essen, Germany.
A Chinese celebrity endorsement can help build trust with current and potential customers and attract a new kind of audience within China, said Zhu Shuangcheng, senior brand strategy consultant at Labbrand Enterprise Management Consulting.
"Peng, as an emerging political star, could help popularize the use of China-designed products, especially within the government circle, that many will follow suit," Zhu said.
He said that US President Barack Obama's preference for Blackberry has sparked a greater interest in Blackberry in the White House, and Russian President Vladimir Putin's selection for a phone co-developed by ZTE and a Russian company has helped the device successfully penetrate the Russian market.
hewei@chinadaily.com.cn