Currency entente cordiale
Updated: 2013-11-29 10:32
By Chen Jia and Li Xiang (China Daily Europe)
Comments
Print
Mail
Large
Medium
Small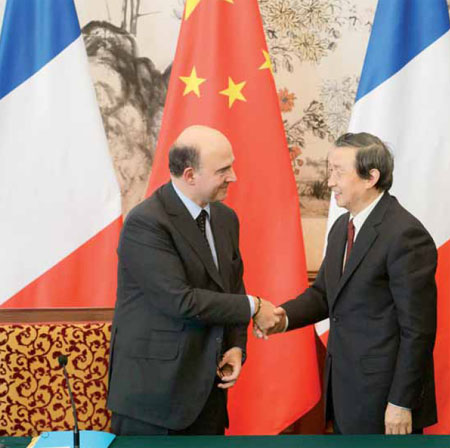 French Finance Minister Pierre Moscovici with China's Vice-Premier Ma Kai at a news conference following a signing ceremony at the Diaoyutai State Guesthouse in Beijing on Nov 26. Ed Jones / Reuters
Paris vies to have a key role as offshore yuan trading center
Senior officials of China and France have agreed to promote the development of the offshore yuan market in Paris and seek closer bilateral economic relations.
The agreement came in a joint statement after the First China-France High-Level Economic and Financial Dialogue in Beijing, held on Nov 26.
Vice-Premier Ma Kai said at the dialogue that China will consider supporting the offshore yuan market in Paris through the renminbi qualified foreign institutional investor mechanism "at the appropriate time".
Ma said: "We have recognized the active role played by Paris in promoting the cross-border renminbi business."
The two sides will soon assess clearing and settlement arrangements in Paris, the statement said.
Pierre Moscovici, France's minister for economy and finance, said France supports the internationalization of the Chinese currency.
He urged more financial institutions to get approval to expand their offshore yuan business in Paris, which can broaden bilateral investment and trade channels.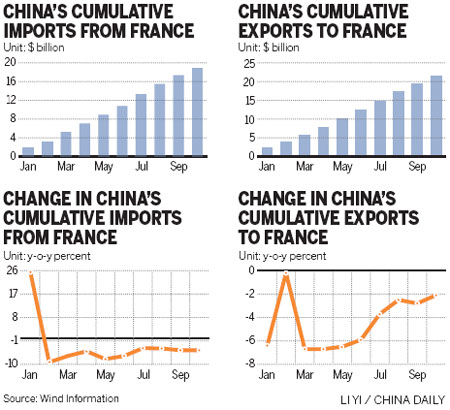 The dialogue represents a significant advance for the bilateral relationship, helping strengthen economic and financial cooperation, particularly with regard to the internationalization of the yuan, French experts says.
Arnaud de Bresson, chief executive officer of Europlace, a professional association that promotes Paris as an international financial center, said the city aims to become a leading offshore yuan trading center.
"The priorities of our next renminbi strategy include consolidating renminbi-denominated offers and services in Paris for European companies, as well as accelerating the number of French renminbi bond issuers and Chinese euro issuers on the Euronext," De Bresson says.
Euronext NV is an electronic exchange with branches around Europe.
"Paris is also keen to develop an efficient offshore renminbi liquidity pool in Paris to accompany renminbi flows, including Sino-African business flows, which are traded through Paris," he says.
The People's Bank of China and the European Central Bank signed a bilateral swap agreement for 350 billion yuan ($57 billion) in October.
That pact is expected to support the development of Paris' offshore renminbi market through the strong liquidity backstop it offers to banks established in the eurozone.
Chinese and French banks in Paris have developed diversified instruments and services for clients including deposits, trade finance, cash management, cross-border transfers and corporate banking.
Renminbi deposits stand at 20 billion yuan in Paris, and French companies have issued 10 billion yuan worth of yuan-denominated bonds.
Last year, bilateral trade reached $51 billion. According to Moscovici, about 20 percent of this trade was settled in yuan.
China's Deputy Finance Minister Zhu Guangyao told a news conference after the dialogue that China will continue to improve the investment environment, based on the reform agenda approved by the Third Plenary Session of the 18th Central Committee of the Communist Party of China, and create more investment opportunities for French companies.
China will also support efforts by domestic companies to invest in France and help increase employment there, Zhu said.
Senior officials from both countries agreed to increase cooperation in key industries including aviation, nuclear energy and vehicle manufacturing.
They also agreed to strengthen macroeconomic policy coordination, expand bilateral trade, create a fair trade environment and support the global economic recovery and growth.
President Xi Jinping and French President Francois Hollande decided to establish the China-France High-Level Economic and Financial Dialogue when Hollande was in China in April.
The second dialogue will be held in France next year.
Contact the writer at chenjia1@chinadaily.com.cn and lixiang@chinadaily.com.cn