Foreign minister anticipates relations with France
Updated: 2013-11-01 07:42
By Li Xiang in Paris (China Daily)
Comments
Print
Mail
Large
Medium
Small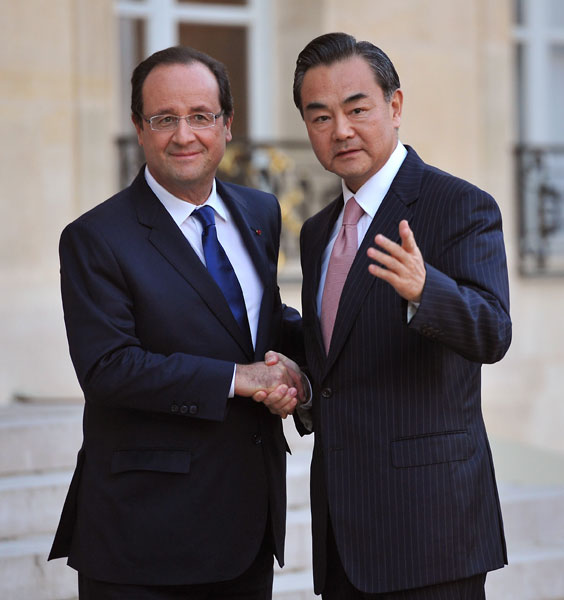 French President Francois Hollande meets Chinese Foreign Minister Wang Yi outside the Elysee Palace in Paris on Wednesday. [Photo/Xinhua]
Foreign Minister Wang Yi is calling his two-day visit to France that wrapped up on Thursday a prelude to closer high-level exchanges and dialogue between Beijing and Paris as they aim to further strengthen relations.
Wang is thus far the most senior Chinese official to have visited France since French President Francois Hollande took office last May. His visit precedes President Xi Jinping's state visit to France next year to mark the 50th anniversary of the establishment of diplomatic relations and the 10th anniversary of a comprehensive strategic partnership between the two countries.
During his two-day visit in Paris, which was also his first official trip to Europe as foreign minister, Wang exchanged views with Hollande and Foreign Minister Laurent Fabius on strengthening bilateral ties and on major international issues, including the Syrian civil war, the Iranian issue, climate change and environmental protection.
"Relations between China and France go far beyond the bilateral realm - they hold a distinct strategic importance. Therefore we should not only strengthen bilateral cooperation but also coordinate our viewpoints on major international issues," Wang told a news conference in Paris on Wednesday.
He said there is vast potential for cooperation between China and France in urbanization, information technologies and methods of modernizing agriculture.
During his visit, Wang reiterated China's position on the Syrian civil war, stating it supports a resolution to the crisis through diplomacy.
"China supports the second round of the Geneva peace talks. The international community should create favorable conditions for various parties in Syria to reach a consensus," he said.
During Wang's visit to France, both sides reiterated their commitment to strengthen bilateral cooperation in helping the African continent develop.
Analysts said Beijing and Paris should do more to diversify their political contacts to boost mutual trust.
"It is paradoxical that, politically speaking, the relationship is always said to be special because of their history while, at the same time, it is not as close as it should be," said Francoise Nicolas, director of the Center for Asia Studies at the French Institute of International Relations.
"If you look at Germany, relations (with China) seem to be more solid even though there is no long history behind it. They did something better than we did. And one obvious thing is the regularity in meetings at different levels," Nicolas said.
Cui Hongjian, director of European studies at the China Institute of International Studies, said top leaders from both countries should establish a mechanism for coordination to allow both sides to evaluate each other's intentions when disagreements emerge.
More frequent contacts between Chinese and French leaders can be expected. French Prime Minister Jean-Marc Ayrault will soon visit China for the preparation of the 50th anniversary of China-France relations, according to Fabius.
Fabius also said at the press conference that France has decided to simplify the visa application procedures for Chinese citizens, which will allow them to acquire a French visa in just two days.
lixiang@chinadaily.com.cn