Tsinghua aiming high with French counterparts
Updated: 2013-10-21 13:33
By Zhang Lei (chinadaily.com.cn)
Comments
Print
Mail
Large
Medium
Small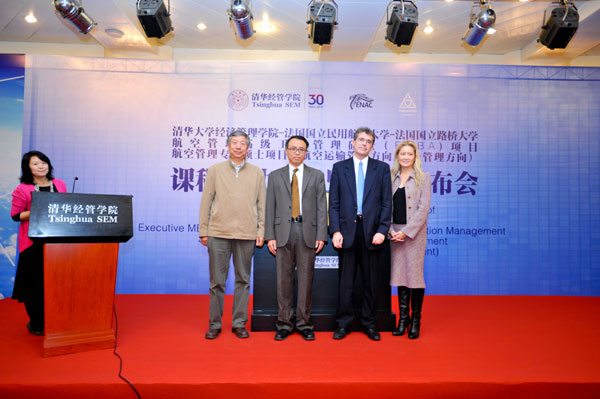 Guests at the launch ceremony of the new Aviation Management Executive MBA program in Tsinghua University on Oct 17, 2013. Provided to chinadaily.com.cn
Tsinghua University, the French National Civil Aviation University (ENAC) and the French National Bridge University (ENPC) together announced their new Aviation Management Executive MBA program on Oct 17.
The joint faculty both from China and France, according to the program founder, will better help the Chinese aviation industry to improve the scientific management level, the accumulation of their own core management techniques and management model.
Zhu Yan, a professor at Tsinghua University said, "After 30 years of reform and opening-up, China's civil aviation industry has achieve a sustained and rapid development, and it plays an increasingly important role in China's economic and social development. However, it is now faced with the urgent need to further improve the management level."
The first phase of courses for Air Transport Management Direction/Airport Management Direction will start in December 2013, while the first phase of courses for Aviation Management Executive MBA program will officially take place in March 2014.
In addition to traditional classroom teaching, innovative experiential learning model, including industry guests roundtable, case teaching, corporate visits will be adopted to provide students the chance to meet first-class aviation-related businesses, including aircraft manufacturers, and airport management companies.
Marc Houalla, president of French National Civil Aviation University also said that by combining their resources with Tsinghua University will get broad prospects for the program and he is confident that it will attract many aviation professionals and those who aspire to pursue a future in the aviation business.