Earthquake inspires a moving dance show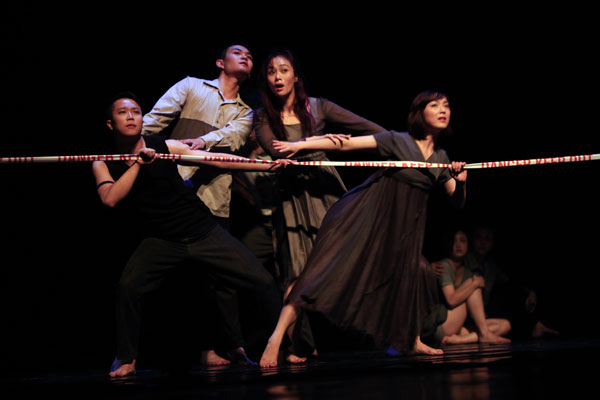 A scene from Fault Lines, a cooperative dance work of Leshan Song and Dance Troupe and New Zealand dancerchoreographer Sara Brodie. Provided to China Daily 
Zhang Hao was rehearsing with other members of the Leshan Song and Dance Troupe in Sichuan province on the afternoon of May 12, 2008, when suddenly they felt a series of powerful shocks.
"The ground was moving strongly and everything was shaking," Zhang said. The group turned on the TV, and realized they were in the middle of China's worst earthquake in 23 years.
Communications were cut, and since most of their families lived in other parts of the province, Zhang and his fellow dancers could do nothing but wait anxiously.
Three days later, he managed to contact his family at Mianyang. His parents had survived, but his cousin Chen Jian, 28, had been buried alive under a concrete slab. Chen was rescued, but later died in a hospital from his injuries.
Grief-stricken Zhang and his colleagues created a dance in memory of Chen and thousands of other victims. Only two weeks after the earthquake struck, the dancers performed the 7-minute work, called Hands: Rebirth, in Mianyang.
In 2010, Brett Sheehy, artistic director of the Melbourne Festival, saw the show and approached the group.
"Sheehy asked us if we would be interested in working with an international choreographer to create a new work," said Lyv Yong, the troupe's director. "Sheehy recommended Christchurch-born Sara Brodie, whose hometown in New Zealand was devastated by a quake in 2010. We said yes."
Brodie worked for more than a decade in London as a dancer and actress before returning to New Zealand during the 1990s.
She first visited the troupe in 2011, talked with the dancers about their experiences and saw Hands: Rebirth. Her interviews with the dancers and other people in both Christchurch and Sichuan gave birth to a 75-minute dance work titled Fault Lines, which premiered at Melbourne Festival in October 2012.
"We can all relate to losing our balance over the course of relentless aftershocks, the physical shock, disorientation and the panic of not being able to find one's relatives," said Brodie. "All of this is on the stage.
"Everyone felt that the positive effect of such great loss was that it had brought people closer. Neighbors now cared for each other, strangers helped strangers, and from such devastation came more concern for others and connection."
Brodie invited New Zealand composer and percussionist Gareth Farr and Ping Gao, a Chengdu musician who had spent several years in Christchurch, to put together the music for the show.
In September 2013, Fault Lines was staged in Christchurch. Brodie said the rapport between the stage and audience was incredibly strong.
Brodie has since worked with the Kunqu opera star Dong Fei on the show Gao Shan Lui Shui, which premiered in Wellington on Nov 6.
"I hope my collaboration with Chinese dancers and performers will continue and be lifelong," said Brodie. "It has certainly been an incredibly rich journey thus far."
chennan@chinadaily.com.cn