Yili plans huge dairy base with NZ investments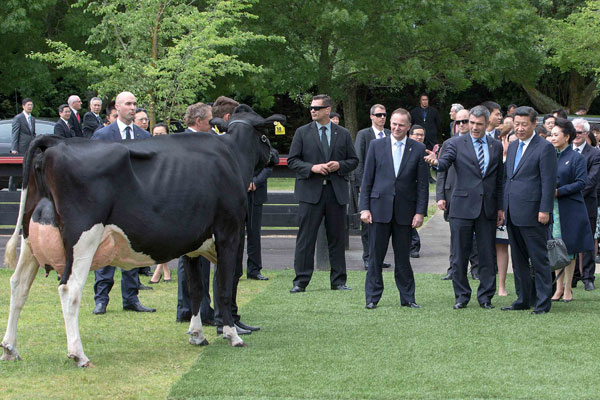 President Xi Jinping is shown a cow by New Zealand's Primary Industries Minister Nathan Guy and Prime Minister John Key in Auckland on Friday. DAVID ROWLAND / REUTERS
Inner Mongolia Yili Industrial Group Co Ltd, the Chinese dairy giant, announced on Friday its plans to invest in four dairy projects in New Zealand for a combined 3 billion yuan ($489 million) to build the world's largest dairy base.
The project's scope will range from raw milk processing, UHT (ultrahigh temperature processing) and liquid milk, as well as milk powder manufacturing and packaging projects. The deal is aimed at improving the dairy group's profitability and competence and brand influence in the global market.
On Nov 12, Yili and Dairy Farmers of America, a huge US cooperative, signed a deal to build a powdered milk plant in Kansas in the United States - the largest milk powder producer in the US.
The jointly invested plant is expected to produce 80,000 metric tons of powdered milk annually and will export to the Chinese market as well as others that have a growing demand for dairy products.
In addition to the US, European and South American countries are looking to China as an export market for dairy materials and products. This creates mounting challenges for New Zealand, the world's largest dairy exporter, said Song Liang, a leading industry expert.
China has been relying heavily on dairy imports from New Zealand.
Carl Worker, New Zealand's ambassador to China, has said that New Zealand's dairy exports to China grew by 55 percent last year. Out of the country's total exports last year, worth NZ$48 billion ($37.8 billion), 30 percent were dairy products, and one-third of the dairy exports went to China, Worker said.
Although most of New Zealand's milk is consumed domestically, with only 7 to 8 percent exported, the country accounts for one-third of the world's milk exports.
Theo Spierings, chief executive of New Zealand-based Fonterra Co-operative Group, the world's largest exporter of dairy products, said the local milk supply in China has been at a plateau of about 35 billion liters annually since 2008.
However, he said, the gap between supply and demand is growing, which has created opportunities for foreign companies. Nonetheless, Fonterra remains optimistic about the future of the Chinese market, Spierings said.
Fonterra and US-based Abbott Laboratories recently announced an agreement to develop a dairy farm hub in China, part of a plan to build six farm hubs in China before 2020.
Another New Zealand dairy producer, Westland Milk Products, foresees increasing demand for high-quality dairy products with the rapid development of China's dairy market.
The company is expected to increase its business here from the current 20 percent of its total global revenue to 40 percent in the coming years.
Earlier this year, Westland announced a $102 million investment in a plant dedicated to producing infant nutrition ingredients, with much of the products going to the Chinese market.
wangzhuoqiong@ chinadaily.com.cn