China, Australia agree on FTA
Pact would cut tariffs, improve investment environment
Australian Governor-General Peter Cosgrove (right) stands with President Xi Jinping and his wife Peng Liyuan, as she holds a wombat, on the grounds of Government House in Canberra on Monday. Xi is on a three-day official visit to Australia. David Gray / Reuters
China and Australia finalized negotiations on a landmark free trade agreement on Monday after nearly a decade of talks.
The deal comes on the heels of the China-South Korean FTA agreement. It would give China an upper hand in regional economic integration as major economies compete for regional free trade arrangements.
The deal is one of 23 agreed upon by the two countries on Monday as President Xi Jinping is on his first state visit to Australia. Australian Prime Minister Tony Abbott hailed Monday as a "historic day" for the country.
Commerce Minister Gao Hucheng said that Australia would eventually reduce tariffs to zero on all goods imported from China, and China will remove tariffs on a vast majority of Australian goods.
The FTA would cover more than 10 areas, including a simplified review procedure for investments, most-favored-nation treatment, favorable market access rules and market transparency.
China is Australia's largest trading partner, with two-way trade of $130 billion in 2013. Australia is China's eighth-largest trading partner and an important source of the raw resources that China needs to sustain its development.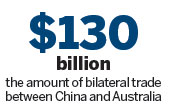 "The FTA development indicates a change from the past, ore-heavy pattern of bilateral trade, and has opened up a promising prospect for China-Australia cooperation in a host of other areas such as agriculture and animal husbandry," said Zhang Jianping, director of the International Economic Cooperation Institute of the National Development and Reform Commission.
Because the two economies are highly complementary, Zhang said, China and Australia should keep up the momentum and roll out "more practical measures to build an ever-closer partnership".
Australia has been keen to transition from a reliance on exports of minerals such as iron ore to expanding its food and agricultural exports to a growing Asian middle class, moving from a mining-based to a diversified export model dominated by its rich agricultural resources and well-developed service industry.
The two countries also signed a deal to launch a renminbi clearing service in Sydney, another push for the use of the Chinese currency in international transactions.
"The trade agreement would benefit Australia's agriculture and services industries in particular and lead to an increase in Chinese investment in the country," said Paul Bloxham, chief economist of Australia and New Zealand at HSBC Bank Australia.
"This is a big deal. We think it will be a support for growth in the Australian economy," Bloxham said. "That's not a particularly positive story for coal, but a much more positive story for gas and potentially for uranium. That may be a bigger deal than a free trade agreement in terms of impact on the energy export sector."
Contact the writer at zhongnan@chinadaily.com.cn
Jiang Xueqing contributed to this story.