China, Australia conclude FTA talks, pledge zero tariffs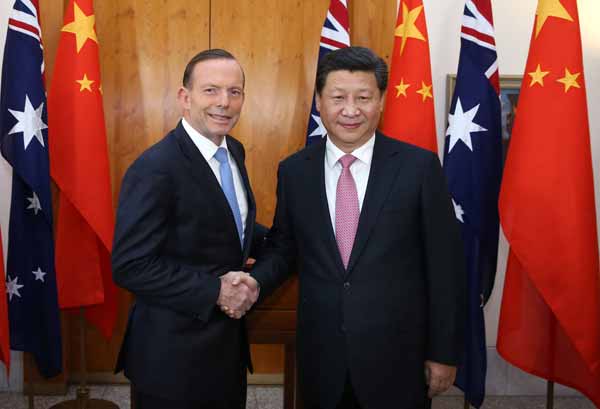 Chinese President Xi Jinping (R) shakes hands with Australian Prime Minister Tony Abbott during their meeting in Canberra, capital of Australia, Nov. 17, 2014.  [Photo/Xinhua]
CANBERRA - China and Australia on Monday signed a declaration of intent on practically concluding bilateral negotiations on a free trade agreement (FTA).

According to the results of the nine-year-long talks, Australia will eventually remove tariffs on all goods imported from China, and a vast majority of Australian products will enter China tariff-free.
As regards investment, the pair agreed to grant each other the most favored nation status once the FTA takes effect. They will greatly lower the review thresholds for corporate investment, and increase market access opportunities, predictability and transparency for such investment.
The two sides also committed themselves to opening up numerous service sectors to each other with high quality.
The China-Australia FTA will be another comprehensive, high-level free trade deal China has finalized with a major economy in the Asia-Pacific region. A week ago, Beijing and Seoul announced the conclusion of their substantive FTA talks.
The agreement will cover more than 10 areas, including trade in goods and services, investment and trade rules, as well as such subjects as e-commerce and government procurement.
Visiting Chinese President Xi Jinping and Australian Prime Minister Tony Abbott witnessed the signing of the declaration of intent by Chinese Commerce Minister Gao Hucheng and Australian Minister for Trade and Investment Andrew Robb.
The conclusion of bilateral FTA talks "is a big event worth celebrating in our economic and trade relations," Xi told Abbott in their talks on Monday.
"The two sides have taken a pragmatic attitude to address the concerns of each other, and the FTA demonstrates a balance of interests and is a high-quality, high-level deal," he said.
For his part, Abbott said the completion of negotiations is very exciting and displays the extensiveness and strong momentum of bilateral cooperation.
At a joint press conference, Xi said the free trade deal "will provide broader markets, more conveniences and better system guarantee for bilateral cooperation," and Abbott said the pact will generate greater opportunities and benefits for both countries.
According to the Chinese Ministry of Commerce, the China-Australia FTA talks have realized the goal of comprehensiveness, high quality and balance of interests.
The free trade arrangement will allow the two countries to fully utilize their respective economic advantages, boost win-win cooperation, bring mutual benefits and promote the in-depth development of bilateral economic and trade ties, said the ministry.
China and Australia have witnessed increasingly closer ties since the two countries forged diplomatic relations 42 years ago.
More than 30 inter-governmental consultation mechanisms have been established, and bilateral trade has expanded 1,500-fold in the past 42 years. The two countries have also engaged in vibrant people-to-people exchanges.
China is now Australia's largest trading partner, export market and source of imports. Two-way trade reached 136.4 billion U.S. dollars in 2013, a year-on-year rise of 11.5 percent.