More Chinese eye vacations in the Balkans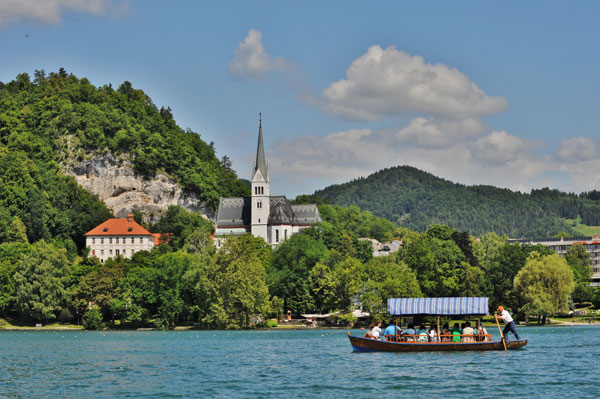 Bled Lake is the most famous scenic spot in Slovenia. After Slovenia joined the Schengen Agreement in 2008, travel to the Balkans has seen rapid growth among Chinese tourists. LIU JIANG / XINHUA
A storied history, destinations as diverse as soaring mountains and sun-drenched beaches, and easier visa applications have made the Balkans an emerging attraction to Chinese tourists.
Sitting in southeast Europe, the Balkan Peninsula is adjacent to the Alps and the Carpathian mountains, and is surrounded by the Adriatic, Mediterranean and Black seas.
Sarajevo, the poetic Danube and Bulgaria's Rose Valley are all prime tourist sites, said Jia Bei, an officer in charge of Balkan travel at Beijing Royal International Travel.
Travel to the Balkans has seen rapid growth among Chinese tourists, especially as visa applications have been made easier, said Jia.
"We've arranged for more than 2,000 tourists to travel in the Balkans over the past several years, and the region holds great potential for the future," Jia said.
"Many of the tourists are college professors or company executives and know the local history and culture, even the films and music of the Balkan countries, such as Albania, Serbia and Romania," said Jia.
The best time to travel is from May to October, when the climate is temperate and the lush green landscapes can be appreciated. Heavy snow can make travel more difficult in the winter season, but the cities take on a postcard feel as they are blanketed in white.
However, it costs about 40,000 yuan ($6,460) for each guest to visit major Balkan countries.
In addition, there are no nonstop flights, so tourists have to fly via Istanbul, Vienna or Venice, according to Jia.
Although visa applications are easier, they are still not as convenient as major western European destinations because Balkan countries have different requirements, said Jiang Yiyi, director of the China Tourism Academy's International Tourism Development Institute.
But the premier's visit will help put the region more firmly on the tourist map.
"With the upcoming visit by Premier Li Keqiang, we believe that Balkan travel will see rapid growth in the future," said Jia.
There are several tourism specials for most of the major Balkan countries, including a 16-day trip that covers Hungary, Slovenia, Croatia, Bosnia and Herzegovina, Montenegro, Albania and Greece.
Zhu Biyi, a 60-year-old man who recently retired from Xinjiang Daily, spent 23 days traveling in the Balkans from late September to early October.
"I've been to more than 50 countries, and curiosity made me choose the Balkans this time," said Zhu.
Zhu read about the local history and culture before the trip.
"It turned out to be a very exciting journey, and I saw how different religions and cultures integrate with each other," said Zhu.
He was very impressed with the various architectural styles and relics of major historical events that he had learned about.
He was breathless when he set eyes on the Adriatic Sea.
"I have seen many seas before, but the Adriatic Sea is something different, especially when compared with the seas off the Chinese mainland," said Zhu.
"I could clearly see my whole body when I swam in the sea."
The only drawback of Zhu's trip was the tour guide service.
"Tour guides varied with each country we visited, and their quality was inconsistent," said Zhu.
One tour guide used to be a professor and was really good at explaining local conditions, but most guides either don't speak Chinese or are not familiar with local culture and history, Zhu said.