Li arrives in Serbia for China-CEE summit, official visit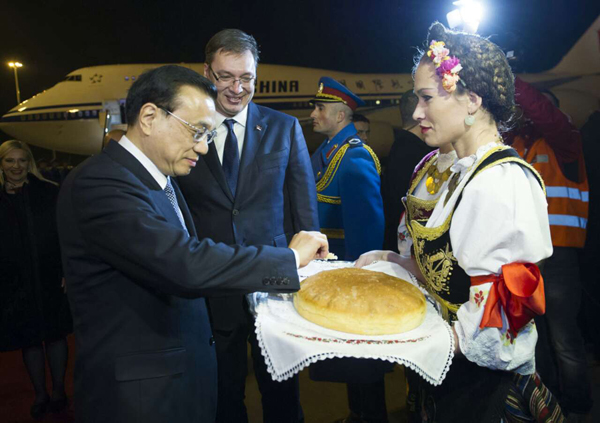 Chinese Premier Li Keqiang (1st L) is greeted by Serbian Prime Minister Aleksandar Vucic at the airport upon his arrival in Belgrade, Serbia, Dec 15, 2014. Chinese Premier Li arrived here for a leaders' meeting of China and Central and Eastern European (CEE) countries, and an official visit to Serbia. [Photo/Xinhua]
BELGRADE - Chinese Premier Li Keqiang arrived in Belgrade late Monday for a leaders' meeting of China and Central and Eastern European (CEE) countries, and an official visit to Serbia.
During his stay here, Li, the first Chinese premier to visit the country in 28 years, will meet with the Serbian president and prime minister, and attend a ceremony marking the completion of a Chinese-built bridge across River Danube in Belgrade with his Serbian counterpart.
He will also witness the signing of a series of agreements, both governmental accords and business contracts, ranging from finance, investment and aviation to cultural and information industries.
Li, who was greeted by the Serbian Prime Minister Aleksandar Vucic at the airport, said upon his arrival that the lasting friendship between China and Serbia originated from their consistent mutual support for each other on issues of core interests and vital concern, ever expanding cooperation of mutual benefits and deepening exchanges and mutual learning.
The holding of the third leaders' meeting of China and Central and Eastern European (CEE) countries in Belgrade embodies the important role that China-Serbia cooperation has played in the overall cooperation between China and CEE countries, the premier said.
Li voiced the belief that his visit to Serbia will help fortify bilateral ties, enhance cooperation between China and CEE countries, and enrich the connotation of China-Europe relations.
Vucic, on his part, said he believes that Li's visit will give a vigorous boost to the development of the Serbia-China relations and lift the cooperation between the CEE countries and China to a higher level.
Serbia is China's first strategic partner in the CEE region. The Chinese Foreign Ministry has said the visit is of great importance for China and Serbia to consolidate their traditional friendship, enhance mutual political trust, plan future practical cooperation and deepen their strategic partnership in a comprehensive manner.
According to statistics, trade between the two countries reached $612 million in 2013, a 19.6 percent surge year on year.
Li flew to Serbia after wrapping up a visit to Kazakhstan in his three-nation trip, which will also take him to Thailand.