China calls for Asian-European efforts to boost security, connectivity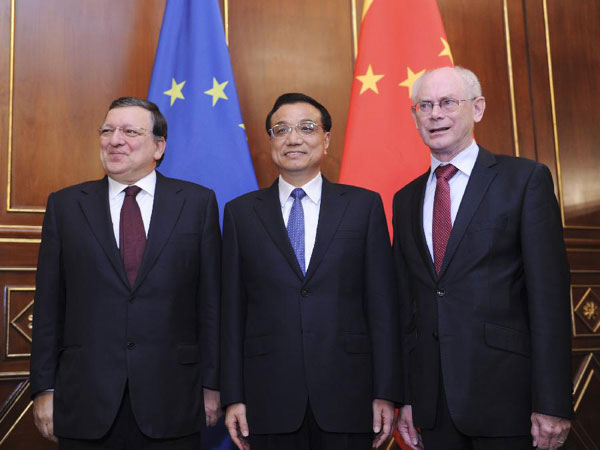 Chinese Premier Li Keqiang (C) meets with European Council President Herman Van Rompuy (R) and European Commission President Jose Manuel Barroso in Milan, Italy, Oct. 16, 2014. [Photo/Xinhua]
MILAN, Italy - Chinese Premier Li Keqiang on Thursday called on Asian and European countries to safeguard peace and security and boost inter-connectivity so as to promote development of the world's largest landmass.
Speaking at the 10th Asia-Europe Meeting (ASEM) Summit here, he noted that since the establishment of the ASEM 18 years ago, its members have been deepening political dialogue and broadening cooperation, which has led to the emergence of a Eurasian community of shared destiny.
China stands ready to work with other Asian and European countries to foster the awareness of a Eurasian community and promote unity and coordination of the two continents, he said.
He suggested that nations in the region stick to the spirit of openness, inclusiveness and shared destiny, and work together to construct a new type of Asia-Europe comprehensive partnership dedicated to peace and development.
In a three-point proposal, Li first urged Asian and European countries to jointly safeguard regional peace, security and development.
They should further consolidate unity, continue with their participation in and support for multi-polarization and multilateral cooperation, and properly address conflicts and disputes through political and peaceful means, he said.
In his second point, Li proposed that Asia-Europe inter-connectivity should be improved and trade and investment further liberated, so as to accelerate the establishment of a Eurasian single market.
China is willing to work with regional countries to build a inter-connected Eurasian infrastructure network, he said, proposing to resume the ASEM Economic Ministers' Meeting mechanism and set up an Eurasian center for sci-tech innovation cooperation.
Third, he called for joint efforts to promote people-to-people exchanges and social development.
All parties involved should support multi-channel and multi-level exchanges and strengthen experience-sharing in areas including urbanization and public health, he said, suggesting that disability affairs be included in the Asia-Europe cooperation framework.
Meanwhile, Li reiterated China's unswerving adherence to peaceful development and good-neighborly friendly policies, saying that China is willing to share with Asian neighbors the benefits of its economic development and the responsibility of maintaining regional security and stability.
The premier also announced that China will provide at least 100 million yuan's (16 million U.S. dollars) worth of additional aid to help West Africa fight the deadly Ebola outbreak.
He said the Chinese government stands ready to fight Ebola, which poses a grave threat to global public health, along with the international community till victory.
Prior to the latest assistance, China has offered the embattled Africa a total of 234 million yuan (38 million U.S. dollars) in aid to battle the rampant disease since April.
The ongoing ASEM summit, themed "Responsible Partnership for Sustainable Growth and Security" and attended by leaders from 53 countries, adopted Croatia and Kazakhstan as new members.
The Chinese premier is paying an official visit to Italy, the last stop of his ongoing three-nation tour, which has taken him to Germany and Russia.